Translation
Vocre apportera la traduction des appels visio. Vocre apportera la traduction des appels visio Vocre est une application développée par la société MyLanguage compatible avec l'iPhone et l'iPad qui permet de traduire vos conversations.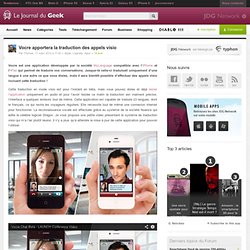 Jusque-là celle-ci traduisait uniquement d'une langue à une autre ce que vous disiez, mais il sera bientôt possible d'effectuer des appels visio incluant cette traduction ! Cette traduction en mode visio est pour l'instant en bêta, mais vous pouvez dores et déjà tester l'application uniquement en audio et pour l'avoir testée ce matin la traduction est vraiment précise, l'interface a quelques lenteurs tout de même. Cette application est capable de traduire 23 langues, dont le français, ce qui ravira les voyageurs réguliers.
Vocre 2.0 Beta - LAUNCH Conference Video. Bilingual avatar speaks Mundie language. (PhysOrg.com) -- This week's Microsoft Big Idea event, TechFest 2012, presented the latest advances on the part of researchers at Microsoft.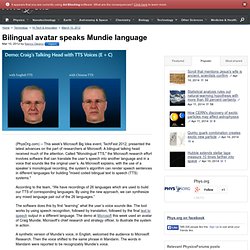 A bilingual talking head received much of the attention. Called "Monolingual TTS," the Microsoft research effort involves software that can translate the user's speech into another language and in a voice that sounds like the original user's.
Best pratice translation
English to French, Italian, German & Spanish Dictionary - WordRe. Urban Dictionary, February 4: Bale Out - Mozilla Firefox. Prononcation. Chinglish: The New 言 in Town! Web tools. PicTranslator Intro. Sakhr Mobile S2S Arabic Translator for Government & Enterprise ( Le web social s'attelle. Sur la plate-forme collaborative Conyac, les utilisateurs lancent des demandes d'adaptation de textes dans d'autres langues.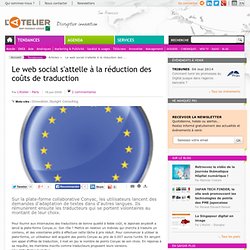 Ils rémunèrent ensuite les traducteurs qui se portent volontaires au montant de leur choix. Pour fournir aux internautes des traductions de bonne qualité à faible coût, le Japonais anydooR a lancé la plate-forme Conyac.cc.
Vous François-Régis Chaumartin ? Francois-Regis Chaumartin le 2010-04-28 à 17h52 from Jean Michel Billaut on Vimeo.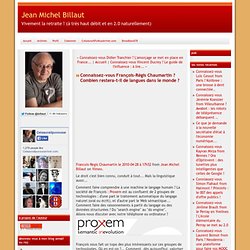 Le droit c'est bien connu, conduit à tout... Mais la linguistique aussi... Proxem > Home. Sphinx-4 - A speech recognizer written entirely in the Java(TM) Overview Sphinx-4 is a pure Java speech recognition library.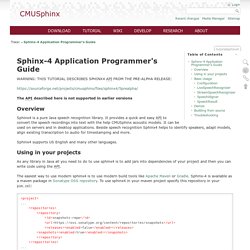 It's very flexible in its configuration, and in order to carry out speech recognition jobs quite a lot of objects depending on each other should be instantiated, throughout this article we will call them all together "object graph". Fortunately, the most of the objects can be instantiated automatically, and for those few requiring manual setup Sphinx-4 provides high-level interfaces and a context class that takes out the need to setup each parameter of the object graph separately.
Sphinx speech to text - Metavid. Sphinx is a speech recognition system that is being developed at Carnegie Mellon University.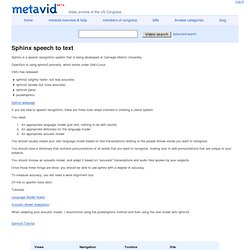 OpenGov is using sphinx3 primarily, which works under GNU/Linux. CMU has released: sphinx2 (slightly faster, but less accurate) sphinx3 (slower but more accurate) sphinx4 (java) pocketsphinx Sphinx webpage. Sphinx. From Sourceforge: Sphinx is a speaker-independent large vocabulary continuous speech recognizer under Berkeley's style license.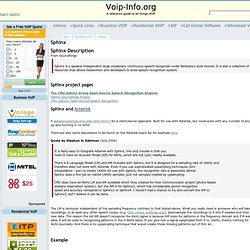 It is also a collection of open source tools and resources that allows researchers and developers to build speech recognition system. Sphinx project pages The CMU Sphinx Group Open Source Speech Recognition EnginesSphinx Sourceforge Project CMU Sphinx: Open Source Speech Recognition Sphinx and Asterisk. Speech to text conversion in Linux. Part 17. Conversation mode in Google Translate.
---