Tools services
How to use this service? Just enter a domain or subdomain name into a text field on the top of the page and click "Push 2 Check" button. Important: "domain.com" and "www.domain.com" are different domains. The main tab is called "# STATS #" and it contains summary information. You can get detailed information by clicking on links in the "# STATS #" tab.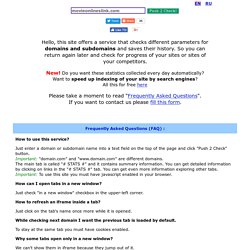 Social Media Custom Analytics What can you use the app for? Hootsuite.com is a social networking client that allows users to manage the major social networking sites they belong to and to track statistics on them.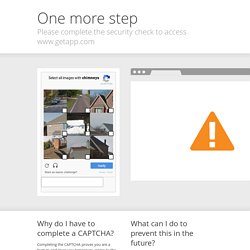 Moteurs de recherche (MR)
Help (Remote Access and Support over the Internet)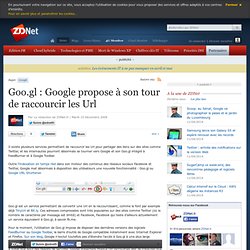 Il existe plusieurs services permettant de raccourcir les Url pour partager des liens sur des sites comme Twitter, et les internautes pourront désormais se tourner vers Google et son Goo.gl intégré à FeedBurner et à Google Toolbar. Outre l'indexation en temps réel dans son moteur des contenus des réseaux sociaux Facebook et Twitter, Google met désormais à disposition des utilisateurs une nouvelle fonctionnalité : Goo.gl ou Google URL Shortener. Goo.gl est un service permettant de convertir une Url en la raccourcissant, comme le font par exemple déjà TinyUrl et Bit.ly. Ces adresses compressées sont très populaires sur des sites comme Twitter (où le nombre de caractères par message est limité) et Facebook, Facebook qui teste d'ailleurs actuellement un service équivalent à Goo.gl, à savoir fb.me.
Goo.gl : Google propose à son tour de raccourcir les Url - Actua
AdSense
Faire des tests A/B avec Adsense Voici une méthode A/B qui va vous permettre de tester l'efficacité de vos publicités Adsense sur votre site. L'objectif est de déterminer quel format, quelles couleurs, quelle taille de police...etc etc est le plus cliqué par les visiteurs de votre site. J'écris ce post à des fins de mémo en espérant trouver le temps un jour de faire moi-même ces tests A/B.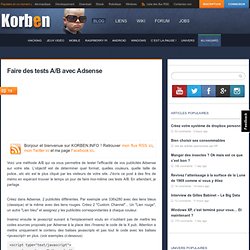 Faire des tests A/B avec Adsense
comparison Tools / Meta Tools