Symbian dev
SymbianOne smartphone Community Site for Symbian OS Series 60 sm
Symbian OS, EPOC SDKs, Software Development Tools, OPL
Symbian OS (EPOC) Resource Center
Symbian platform
Symbian was a mobile operating system (OS) and computing platform designed for smartphones and currently maintained by Accenture . [ 5 ] Symbian was originally developed by Symbian Ltd. , [ 6 ] as a descendant of Psion 's EPOC and runs exclusively on ARM processors , although an unreleased x86 port existed. The current form of Symbian is an open-source platform developed by Symbian Foundation in 2009, as the successor of the original Symbian OS . Symbian was used by many major mobile phone brands, like Samsung , Motorola , Sony Ericsson , and above all by Nokia .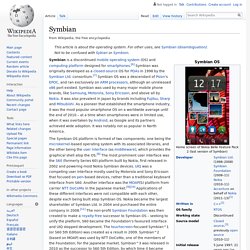 Software for Nokia N97 / E71 / E75 / E72 / E63 / N96 / N85 / N95
Software Basics
Home NewLC | NewLC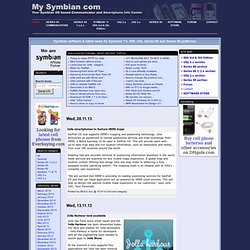 Symbian OS Communicators and Smartphones Info Center
Nokia today announced the Nokia 603 , a colourful, affordable, no compromise smartphone preloaded with the latest apps and featuring single-tap pairing, sharing and tag reading with NFC. Alongside the Nokia 603, the daringly-designed Nokia Luna Bluetooth Headset completes the NFC-enabled easy pairing experience in an affordable package. The Nokia 603 is designed to appeal to first time smartphone users and those upgrading from older products, particularly existing users of Nokia smartphones who will welcome a device that offers all the latest technology and features in a package that is still uniquely Nokia. This latest smartphone exemplifies Nokia's belief that affordability should not compromise the quality of the experience. The Nokia 603 offers a seamless, compact design that makes the most of the durable 3.5 inch ClearBlack , scratch-resistant display ( nHD resolution, 640x360), optimized for use in sunlight.
OSymbian.com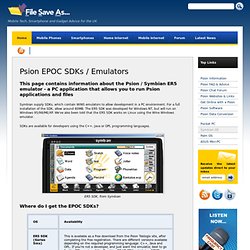 This page contains information about the Psion / Symbian ER5 emulator - a PC application that allows you to run Psion applications and files Symbian supply SDKs, which contain WINS emulators to allow development in a PC environment. For a full installation of the SDK, allow around 80MB. The ER5 SDK was developed for Windows NT, but will run on Windows 95/98/ME/XP.
Psion and EPOC Emulators