Social network
[Paris] IncidentsTransports. [Paris] IncidentsTransports. IncidentsTransports Contribuer et partager Ajouter une incident, c'est simple, facile, et ça aide tout le monde !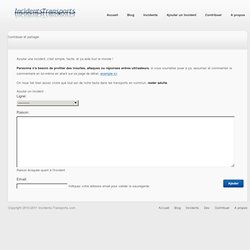 Personne n'a besoin de profiter des insultes, attaques ou réponses entres utilisateurs, si vous souhaitez jouer à ça, assumez et commentez le commentaire en lui-même en allant sur sa page de détail, exemple ici. [Paris] IncidentsTransports. Reste Assis T'es Prévenu - Android Market. Wherever you are, just pull Transit out of your pocket and quickly know when the next bus or train is arriving.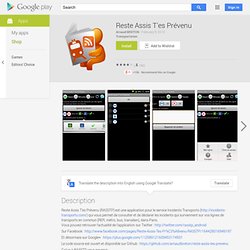 Not sure what's the fastest way? Use our easy-to-use trip planner to find your way.Featured on Google Play Picks and MTA App Quest winner! Works in 62 cities across North America and Europe (see full list on Know at a glance when your next train or bus is arriving.- See exactly where your bus or train is on the map in real-time.*- Find scheduled departures and route itineraries even without an Internet connection.- Star your favorite routes, bumping them to the top of the list- Plot routes on the map. Arnaud.breton.
---