Tilt Shift / Effet de maquette miniature
UJAM Trailer December 2010
Tutorial Vidéo - Tilt Shift avec Photoshop - tuto, tutorial, vid
Ce vous apprendra comment simuler un effet de Tilt Shift sur vos photos avec Photoshop. En gros vous apprendrez comment appliquer à une image un effet de Premièrement, il vous faut une image.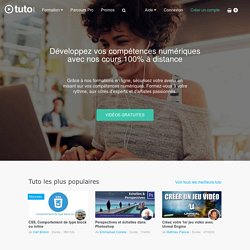 Fire (Jimmy Edgar Remix)-Codebreaker Feat. Kathy Diamond on Vime
40 Stunning Tilt-Shift Images of Urbanity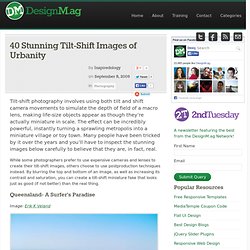 Tilt-shift photography involves using both tilt and shift camera movements to simulate the depth of field of a macro lens, making life-size objects appear as though they're actually miniature in scale. The effect can be incredibly powerful, instantly turning a sprawling metropolis into a miniature village or toy town. Many people have been tricked by it over the years and you'll have to inspect the stunning images below carefully to believe that they are, in fact, real. While some photographers prefer to use expensive cameras and lenses to create their tilt-shift images, others choose to use postproduction techniques instead. By blurring the top and bottom of an image, as well as increasing its contrast and saturation, you can create a tilt-shift miniature fake that looks just as good (if not better) than the real thing.
Vendredi 2 octobre Vidéo - 2 octobre 2009 :: 10:53 :: Par Eric Comme Disneyland est le royaume des enfants et des adultes qui le sont un peu restés, quoi de plus normal finalement que de produire une vidéo qui fait ressembler le parc à un village miniature façon Polly Pocket ? C'est ce que propose le blog de DisneyParks : une vidéo assemblée à partir de milliers
Disneyland en vidéo façon tilt shift | Presse-Citron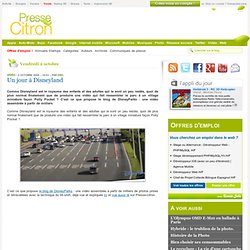 Amazing tilt-shift photography video!
Mercredi 3 mars Vidéo - 3 mars 2010 :: 09:27 :: Par Eric Trouvée au hasard d'une recherche dans le site HP, cette petite merveille de vidéo publicitaire institutionnelle « Create Amazing » passée relativement inaperçue, rendue avec le fameux effet tilt shift qui consiste à jouer sur le flou et la profondeur de champ pour donner l'impression d'un monde miniature. Voici ce qui ressemble à une version intégrale (3:17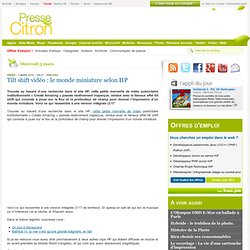 Vidéo tilt shift HP | Presse-Citron
Samedi 4 septembre Vidéo - 4 septembre 2010 :: 11:14 :: Par Eric Je viens de rentrer de Berlin ou j'étais pour le salon IFA. En attendant mon compte-rendu sur ce que j'en ai retenu, voici une autre superbe vidéo en tilt-shift sur cette ville superbe, trouvée chez Ulule via un commentaire ici. Little Big Berlin from pilpop on Vimeo. D'autres vidéos et images en tilt-shit ici BioDerniers
Vidéo tilt-shift : Little Big Berlin
Little Big Berlin on Vimeo
les Lilliputiens adorent les concerts en plein air - Gizmodo -
New York : la ville qui ne dort jamais
NYC - Mindrelic Timelapse on Vimeo
Nissa Miniatura on Vimeo