Others Web dev Tools
Introducing Squarespace 6 — The Official Squarespace Blog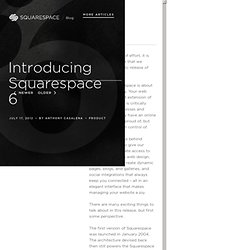 Today, after years of effort, it is with great pleasure that we announce the public release of Squarespace 6. At its core, Squarespace is about your online identity. Your web presence is a direct extension of your personality. It is critically important all businesses and individuals not only have an online presence they are proud of, but one that they are in control of.
Être concepteur ou développeur Web n'est pas de tout repos. Répondre aux exigences des clients, créer des sites sur mesure, il faut savoir anticiper et innover. Analyse, créativité et rigueur sont souvent les maîtres mots. Histoire de vous simplifier certaines tâches, j'ai dégoté 5 services en ligne pour les concepteurs et les développeurs Web… 1.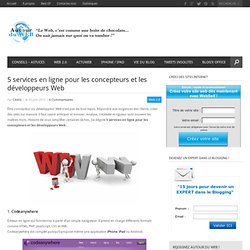 We all want everything here, now, fast and with no hassle (no need to install anything). This is what Codeanywhere does, it lets you code from anywhere, without the need to bring anything along with you. Just log on to Codeanywhere with any computer or smartphone, and all your servers (FTP, SFTP and Dropbox), files, everything is waiting for you, even the files you left open will be open when you login again.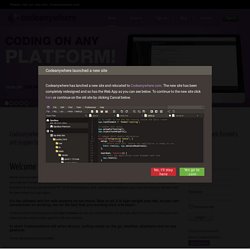 Codeanywhere
Description Codeanywhere is a fast and light code editor engineered for the developer on the go. Featured in TechCrunch, PandoDaily, TheNextWeb. (Please note that this app requires the user to login to be able to synchronize your settings across all platforms.) Codeanywhere is a text, code and markup editor, that has been redesigned and reengineered to be light, fast, and mobile-friendly. Connect to your FTP, SFTP Servers, Dropbox or Github account and easily manipulate your resources, folders or files just with the swipe of your finger.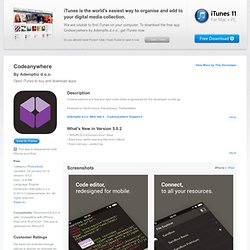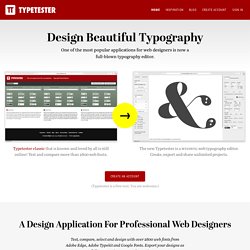 Browsers supported* JavaScript In order to use the application, please turn JavaScript on. Cookies If you'd like to see settings from your last visit next time you come around, just enable cookies. Firefox extensions
Handy Chrome Extensions for Designers
All these extensions are absolutely free. Earlier on, Google Chrome was thought to be a threat only to internet explorer, because it was a choice of not-so-professionals. Things have changed now and its extensions are now posing a threat to Firefox's popularity. Today I'm presenting a big list of the best Chrome extensions for designers. These extensions (you might call them "plugins") will help you a great deal in creating your graphics and designs. I have tested all these extensions and they are all working with the latest Google Chrome version.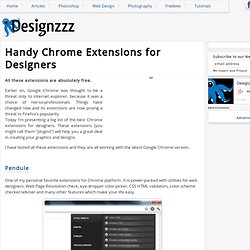 Reminder: BlueGriffon is Open Source, and available free of charge. If you want to support BlueGriffon, please buy our add-ons! Warning: you may have to delete your BlueGriffon profile if you installed and used pre-1.0 versions of the editor or if you have trouble changing the language of the interface. You will have to re-install your add-ons after that. on Mac OS X: delete ~/Library/Application\ Support/BlueGriffonon Windows XP: delete c:\Documents and Settings\yourlogin\Application Data\Disruptive Innovations SARLon Windows 7: delete c:\Users\yourlogin\AppData\Roaming\Disruptive Innovations SARLon Linux: delete ~/.disruptive\ innovations\ sarl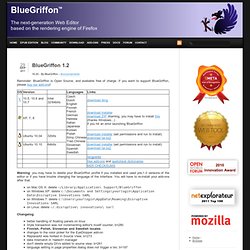 1.2 - BlueGriffon.org
BlueGriffon - Wysiwyg HTML Editor - Ubuntu 10.10
background: #1e5799; /* Old browsers */ background: -moz-linear-gradient(top, #1e5799 0%, #2989d8 50%, #207cca 51%, #7db9e8 100%); /* FF3.6+ */ background: -webkit-gradient(linear, left top, left bottom, color-stop(0%,#1e5799), color-stop(50%,#2989d8), color-stop(51%,#207cca), color-stop(100%,#7db9e8)); /* Chrome,Safari4+ */ background: -webkit-linear-gradient(top, #1e5799 0%,#2989d8 50%,#207cca 51%,#7db9e8 100%); /* Chrome10+,Safari5.1+ */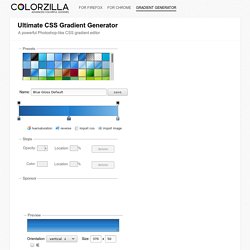 Grâce à Laurent, lecteur de Korben.info, j'ai découvert Kodingen, un service web qui va surement vous "effrayer" mais aussi vous faire halluciner. L'objectif de Kodingen est de proposer aux développeurs, un espace de travail dans le cloud (le fameux "nuage" = stockage sur internet). Cela signifie que vous n'avez besoin de rien à part une connexion internet pour développer vos applications web. Kodingen propose en effet plusieurs choses vraiment sympas :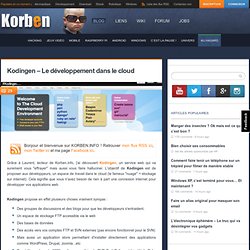 Kodingen – Le développement dans le cloud