News Versions
pearltrees » pearltrees alpha version 0.3: getting better all th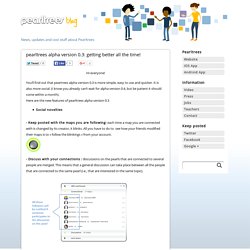 Hi everyone!
Pearltrees continue de suivre son rythme rapide d'itérations. Aujourd'hui, c'est la sortie de l'itération « Jackie Chan ». Pourquoi « Jackie Chan » ?
V 0.3.2 interface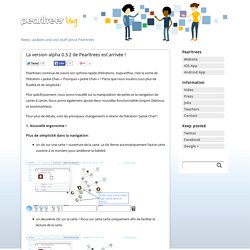 V0.4 (pearltrees)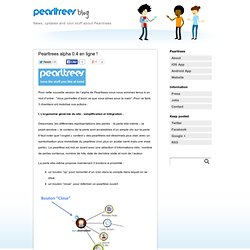 Pour cette nouvelle version de l'alpha de Pearltrees nous nous sommes tenus à un mot d'ordre : "Vous permettre d'avoir ce que vous aimez sous la main".
V 0.4.1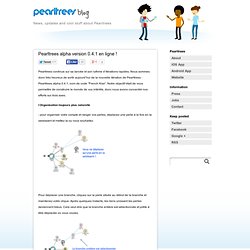 Pearltrees continue sur sa lancée et son rythme d'itérations rapides. Nous sommes donc très heureux de sortir aujourd'hui de la nouvelle itération de Pearltrees : Pearltrees alpha 0.4.1, nom de code "French Kiss". Notre objectif était de vous permettre de construire le monde de vos intérêts, donc nous avons concentré nos efforts sur trois axes.
Pearltrees alpha 0.4.1 video
Pearltrees beta 0.6 marque l'entrée du réseau d'intérêts humain dans l'ère du Real-time .
V 0.6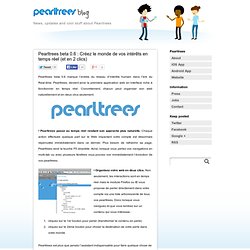 Pearltrees gets very regularly major upgrades, all in an effort to make organizing your web easier. Today, we're very proud and excited to deliver this new iteration of Pearltrees called "Kaboum". So what's new?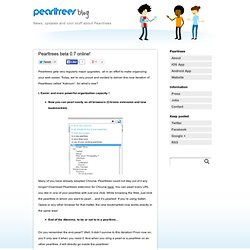 V0.7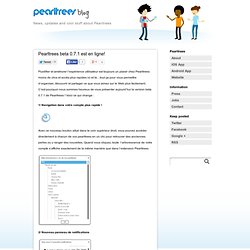 Fluidifier et améliorer l'expérience utilisateur est toujours un plaisir chez Pearltrees: moins de clics et accès plus rapides ici et là…tout ça pour vous permettre d'organiser, découvrir et partager ce que vous aimez sur le Web plus facilement. C'est pourquoi nous sommes heureux de vous présenter aujourd'hui la version beta 0.7.1 de Pearltrees !
V 0.7.1 Beta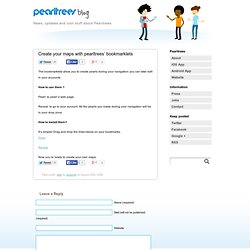 The bookmarklets allow you to create pearls during your navigation you can later edit in your accounts. How to use them ? Pearl: to pearl a web page.
pearltrees bookmarklets
blog
Depuis plusieurs mois, vous éditez vous-même vos pearltrees. Vous avez découvert de nombreuses perles et vous les avez partagées avec vos amis sur Twitter, Facebook, ou directement sur votre blog.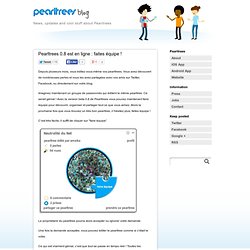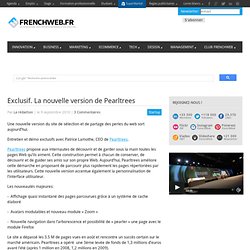 Une nouvelle version du site de sélection et de partage des perles du web sort aujourd'hui.
Pearltrees on Vimeo
Le site français de sélection et de partage des perles du web a profité de la conférence LeWeb10 pour présenter une nouvelle version que son CEO, Patrice Lamothe qualifie de « révolutionnaire ». Première nouveauté, la fonction tactile, qui offre une expérience assez bluffante mais le véritable gap technologique pour Pearltrees s'appelle « Team »: la possibilité de créer en temps réel avec un nombre illimité d'utilisateurs un même bouquet de perles. Une dimension collaborative qui donne un nouveau sens à cette solution ludique de partage d'informations.
Patrice Lamothe, CEO de Pearltrees on Vimeo
We have published several times about Pearltrees private and public beta version on the web, its updates and the launch of the mobile versions for iPad and iPhone . Pearltrees is a collaborative and visual curation tool that allows users to organize and discover online content. Today, Pearltrees launches its 1.0 version with Pearltrees Premium, with a membership fee of $4.99 per month or $49.99 per year that gives access to privacy settings.
Pearltrees 1.0 offers Pearltrees Premium with privacy features
See also http://blog.pearltrees.com/?p=13921 (PS : this url can not be pearltreesed anymore) by drone Oct 31