Native Vs WebApp (Mobile Dev)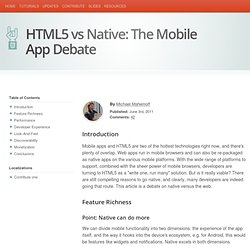 HTML5 Rocks - HTML5 vs Native: The Mobile App Debate
Introduction Mobile apps and HTML5 are two of the hottest technologies right now, and there's plenty of overlap. Web apps run in mobile browsers and can also be re-packaged as native apps on the various mobile platforms. With the wide range of platforms to support, combined with the sheer power of mobile browsers, developers are turning to HTML5 as a "write one, run many" solution. But is it really viable? There are still compelling reasons to go native, and clearly, many developers are indeed going that route.
Débat : Web Apps VS Natif
Lundi 5 septembre 2011 se tenait la Update Conf 2011 à Brighton, nous y étions ! Nous avons notamment assisté à une table ronde (« geek ninja battle » pour les jeunes) sur le thème « Web Apps VS natif » qui réunissait : Matt Gemmel (Développeur iOS, auteur du fameux client Twitter) Jeremy Keith (Web developer) Seb Lee-Delisle (consultant) Martin Beeby (évangéliste Microsoft) Kevin Whinnery (évangéliste Titanium)
Watch Apple engineers present over 100 sessions covering the latest innovations in iOS and OS X from the Apple Worldwide Developers Conference 2011. Session videos from WWDC 2011 Registered Apple Developers can view these session videos by logging in with their Apple ID and password.
WWDC 2011 Session Videos - Development Videos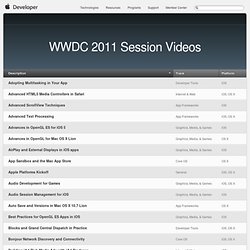 Mobile Web App vs. Native App? It's Complicated
HTML5, Hybrid or Native Mobile App Development? | Webinar Overview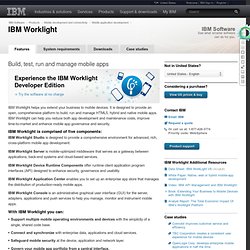 Build, test, run and manage mobile apps Experience the IBM Worklight Developer Edition IBM® Worklight helps you extend your business to mobile devices. It is designed to provide an open, comprehensive platform to build, run and manage HTML5, hybrid and native mobile apps.
I/O 2011 Reto Meier, Michael Mahemoff Native apps or mobile web? It's often a hard choice when deciding where to invest your mobile development resources. While the mobile web continues to grow, native apps and App Stores are incredibly popular.
Michael Mahemoff, Paul Kinlan Explosive growth in the mobile web is set to continue. Don't leave yourself behind. Writing a new app in every native environment is not always possible, and HTML5 is a way to reuse the bulk of your code across all major platforms. We will show you step-by-step how to build an amazing web app that works on many devices. Level: 201 Track: Chrome Time: May 11, 12:30PM – 01:30PM Room: Room 3
I/O 2011