Native Development Kit (NDK)*
Développer des applications pour Android 3 (ou ultérieur), entièrement en C++, sans la moindre ligne de Java sera bientôt possible d'après un billet publié sur le blog officiel des développeurs Android par Chris Pruett. Une nouvelle qui devrait surtout intéresser les développeurs de jeux vidéo 3D, un domaine où les applications Java affichent parfois des limites en terme de performances. Cette nouvelle devrait aussi ravir les développeurs C/C++ et ceux qui ne s'inquiète de l'avenir de Java suite à son passage sous l'égide d'Oracle, à l'origine d'une action en justice toujours en cours, contestant l'utilisation de Java sur Android. Utiliser des librairies natives en C/C++ à partir d'applications écrites en Java pour Android était déjà possible grâce au Native Development Kit (NDK) disponible dans sa première version depuis juillet 2009.
Développer pour Android sans Java bientôt possible en C++ grâce à la 5ème révision du Native Development Kit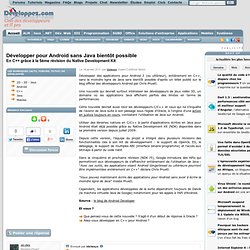 Or we can call the whole thing off and just assume no one's done it yet because the open source community is a bunch of selfish lazy pricks, your call. Strawman much? I haven't used the NDK so I honestly don't know but what I linked to seems to contradict everything you just said. 1) The NDK is for building NATIVE code, meaning no Dalvik. 2) The NDK is for building NATIVE code, meaning no Java. In fact, nothing in android is technically Java except the syntax.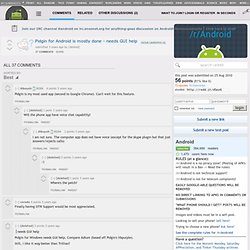 Pidgin for Android is mostly done - needs GUI help : Android
This is mostly just a proof-of-concept. The underlying libraries work, but it lacks a user interface. Download: pidroid.tar.bz2 License: Apache License, Version 2.0 ( http://www.apache.org/licenses/LICENSE-2.0) Progress:
Pidroid IM (Pidgin on Android)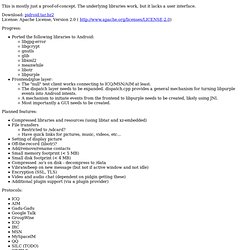 GDG Paris Android User Group - Google+ - Voici les vidéos de notre dernière conférence qui avait…
This video is currently unavailable. Sorry, this video is not available on this device. Video player is too small. Normal
Introduction à RenderScript - PAUG Mars 2013
Android NDK part2 - PAUG Mars 2013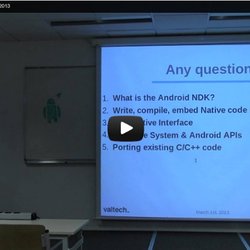 This video is currently unavailable. Sorry, this video is not available on this device. Video player is too small. Normal
This video is currently unavailable. Sorry, this video is not available on this device. Video player is too small. Normal quality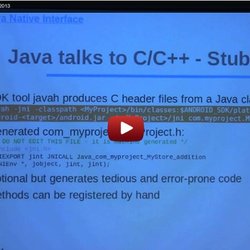 Android NDK part1 - PAUG Mars 2013
– mars 8, 2013 Compte-rendu Le 1er mars 2013 , Sylvain Ratabouil ( blog ) présentait à la communauté Android parisienne la partie NDK pour intégrer ou développer des composants bas niveau en C/C++ alors que généralement une application Android est écrite en Java. Pour voir et revoir la conférence, nous vous proposons les slides et vidéos de sa présentation. Passionné par le développement Android qu'il pratique chez Valtech au sein du pôle Mobile, Sylvain Ratabouil a notamment participé à l'élaboration des applications Android pour L'Express et est un collaborateur régulier de Packt sur des ouvrages Android ( Android NDK Beginner's Guide ). Plus de photos sur l'évènement Google+ . Articles similaires:
Slides et vidéo conférence Android NDK 1er mars 2013 par Sylvain Ratabouil | Paris Android User Group