Native Bridge Windows Unix (no VM)
Par Korben Si vous aimez Linux et que pour des raisons professionnelles ou divines, vous devez utiliser Windows, je suis sûr que certaines commandes comme vim, grep, ls, make, wget, dd, curl, tar...etc vous manquent terriblement ! N'ai pas les boules Abdoul ! Car il existe 4 solutions qui vont vous permettre de disposer des utilitaires de bases de Linux/Unix/BSD compilés spécialement pour Windows.
Des commandes Linux / Unix sous Windows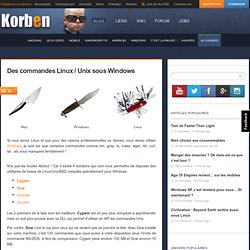 rsync is a utility software and network protocol for Unix-like systems (with ports to Windows ) that synchronizes files and directories from one location to another while minimizing data transfer by using delta encoding when appropriate. Quoting the official website : "rsync is a file transfer program for Unix systems. rsync uses the 'rsync algorithm' which provides a very fast method for bringing remote files into sync." [ 3 ] An important feature of rsync not found in most similar programs/protocols is that the mirroring takes place with only one transmission in each direction. [ why? ] [ 4 ] rsync can copy or display directory contents and copy files, optionally using compression and recursion .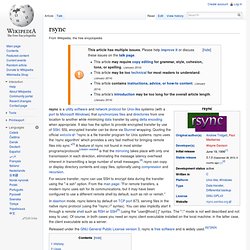 rsync
Mintty is a terminal emulator for Cygwin and MSYS . In Cygwin, it is installed as the default terminal by Cygwin's setup.exe . In MSYS, the mintty package can be installed with the command mingw-get install mintty .
mintty - Terminal window for Cygwin and MSYS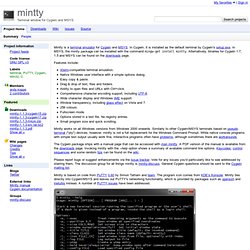 Wine is a free and open source software application that aims to allow applications designed for Microsoft Windows to run on Unix-like operating systems . Wine also provides a software library , known as Winelib , against which developers can compile Windows applications to help port them to Unix-like systems. [ 2 ] Wine is a compatibility layer . It duplicates functions of Windows by providing alternative implementations of the DLLs that Windows programs call, [ 3 ] and a process to substitute for the Windows NT kernel . This method of duplication differs from other methods that might also be considered emulation, where Windows programs run in a virtual machine . [ 4 ] Wine is predominantly written using black-box testing reverse-engineering, to avoid copyright issues. [ 5 ]
Wine (software)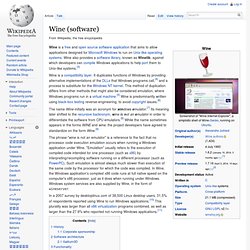 Question Defense » How To Install SCP and SSH On Windows 7 Using Cygwin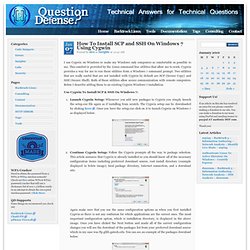 Posted by alex in Insights at 10:47 AM I use Cygwin on Windows to make my Windows only computers as comfortable as possible to me. This comfort is provided by the Linux command line utilities that allow me to work.