Mobile (Html5)
Get flash to fully experience Pearltrees
Introduction The Intel® HTML5 App Porter Tool - BETA is an application that helps mobile application developers to port native iOS* code into HTML5, by automatically translating portions of the original code into HTML5. This tool is not a complete solution to automatically port 100% of iOS* applications, but instead it speeds up the porting process by translating as much code and artifacts as possible. It helps in the translation of the following artifacts: Objective-C* (and a subset of C) source code into JavaScript iOS* API types and calls into JavaScript/HTML5 objects and calls Layouts of views inside Xcode* Interface Builder (XIB) files into HTML + CSS files Xcode* project files into Microsoft* Visual Studio* 2012 projects This document provides a high-level explanation about how the tool works and some details about supported features.
Care to make a cross-platform mobile game with HTML5? No need to dabble in Java or Objective-C? Bypass the app stores?
The Open Web Apps project enables developers to create rich HTML5 app experiences that run across multiple devices and form factors (desktop, mobile, tablet, etc.) using Web standards and open technologies such as HTML5, CSS, and JavaScript.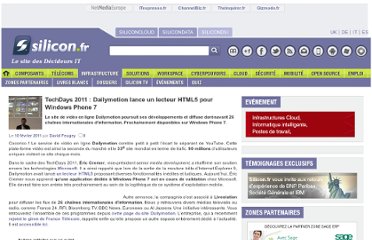 Le site de vidéo en ligne Dailymotion poursuit ses développements et diffuse dorénavant 26 chaînes internationales d'information. Prochainement disponibles sur Windows Phone 7.
Ragavan Srinivasan's post about the forthcoming Mozilla Marketplace for Open Web Apps inspired me to write about Mozilla's surging Web and Device API standards work. A bit of background. Mozilla has always contributed to web standards, going back to the start of the project.
Abstract The Screen Orientation API's goal is to provide an interface for web applications to be able to read the screen orientation state, to be informed when this state changes and to be able to lock the screen orientation to a specific state. Status of This Document This section describes the status of this document at the time of its publication.
Abstract This specification defines an API that provides scripted access to geographical location information associated with the hosting device.
W3C Editor's Draft 20 March 2013
Access to multimedia streams (video, audio, or both) from local devices (video cameras, microphones, Web cams) can have a number of uses, such as real-time communication, recording, surveillance. by drone Feb 23
General Information
Compare cross Mobile Dev. HTML5 based solutions
Firefox OS - Boot to Gecko (B2G)