Last seek
Processeurs Phenom™ II/Athlon™ II/Sempron™ série 100 (Socket AM3) Cette carte mère prend en charge les processeurs multicoeur AMD® socket AM3 avec une mémoire cache L3 unique et améliore les capacités d´overclocking tout en réduisant la consommation d´énergie. Elle prend en charge la mémoire dual-channel DDR3 et accélère la vitesse de transfert jusqu´à 5200 MT/s grâce à la technologie HyperTransport 3.0.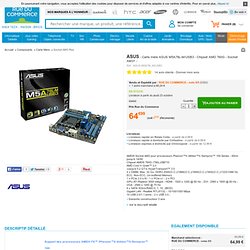 ASUS Chipset AMD 760G M5A78L-M/USB3 - Achat/Vente ASUS Chipset AMD 760G M5A78L-M/USB3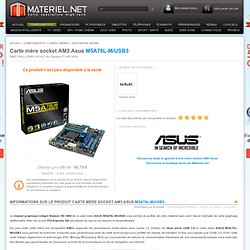 Asus M5A78L-M/USB3 - Carte mère socket AM3
Le chipset graphique intégré Radeon HD 3000 de la carte mère ASUS M5A78L-M/USB3 vous permet de profiter de votre matériel sans avoir besoin d'acheter de carte graphique additionnelle. Bien sûr un port PCI-Express 16x est présent au cas où vos besoins le nécessiteraient. De plus cette carte mère est compatible AM3+ supporte les processeurs multi-cœurs avec cache L3. Dotées de deux ports USB 3.0 la carte mère ASUS M5A78L-M/USB3 vous permet de brancher n'importe quel périphérique doté de cette technologie pour profiter de vitesse de transfert 10 fois plus rapide que l'USB 2.0. Enfin cette carte intègre également la technologie EPU (Energy Processing Unit) qui vous permet de réduire la consommation électrique de vos composants lorsque vous exécutez des tâches peu gourmandes en ressource comme de la bureautique ou de la navigation sur internet.
KIT EVO GAMER (BUN17077) - Achat/Vente RUEDUCOMMERCE KIT EVO GAMER (BUN17077
II X4 965 3.4GHz L2 2Mo et L3 6Mo Black Edition 125Watts processeur AMD Phenom
Processeur AMD - Test, Prix, Photo et Vidéo sur Wikio
Guide d'achat processeurs mai 2012
Glossary-Computer Motherboards-Computer Terms about PC Mainboard Mother Board Motherborad
Motherboard Dimensions / Mounting Holes / Chipset / Processor slot/socket / AGP / PCI / ISA / RAM / Port / Serial / Parallel / PS/2 / USB / VGA / SCSI / Jumper / Connector header / Jumper header / BIOS / Driver / Cable set / Processor / System RAM / Chassis / Power Supply / Socket 7 / Socket 8 / Slot 1 / Slot 2 / Xeon / Cache / L1 Cache / L2 Cache / ACPI / SOHO / ECP / EPP / ECC / APM / DMI / SDRAM / EDO / DIMM / SIMM Chipset ModelsIntel 810 / Intel 440BX / Intel 440GX / Intel 440LX / Intel 440ZX / ALi 1541 / SiS 530 / SiS 600 / VIA Apollo Pro Form FactorBaby AT (BAT) / ATX / MicroATX Motherboard - the principle printed circuit board assembly in a computer; includes core logic (chipset), interface sockets and/or slots, and input/output (I/O) ports.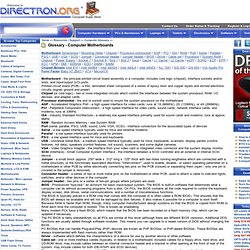 Carte mère AM3, AM3+ Flex ATX, Micro ATX PC3-10600 - DDR3 1333 MHz, PC3-12800 - DDR3 1600 MHz Contrôleur graphique intégré Bureautique, Multimédia : achat / vente Carte mère sur ldlc