jQuery
Archive » JQuery Gantt Chart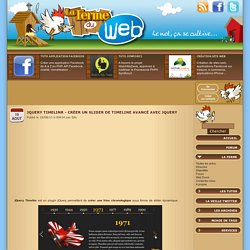 jQuery Timelinr - Créer un slider de timeline avancé avec jQuery
jQuery Timelinr est un plugin jQuery permettant de créer une frise chronologique sous forme de slider dynamique. Présenter les dates clés d'un projet, d'une entreprise... sur son site n'est jamais chose aisée. Grâce à Timelinr, vous aurez la possibilité de créer en quelques lignes de code jQuery un slider dynamique pour associer vos dates à un contenu. La navigation se fait très facilement entre les dates avec un effet de transition sympa qui donnera tout de suite du style à votre frise chronologique.
About a month ago I was reading the New York Times online and they had an article which showed a road in Brooklyn that had been reconstructed to make it safer and more pleasing to the eye. To show the difference in the reconstruction project, they showed a before and after picture using Flash that let the visitor drag a slider over the images, which were sandwiched with one on top of the other, so that you could easily see how dramatic the changes were. I immediately thought that this could be done in JavaScript using jQuery, so I set out to do it. Here's the result: Pretty slick no?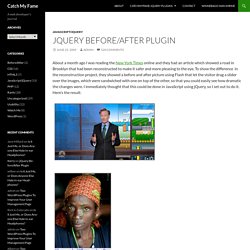 jQuery
Un article de Wikipédia, l'encyclopédie libre. jQuery est une bibliothèque JavaScript libre qui porte sur l'interaction entre JavaScript (comprenant Ajax) et HTML, et a pour but de simplifier des commandes communes de JavaScript. La première version date de janvier 2006.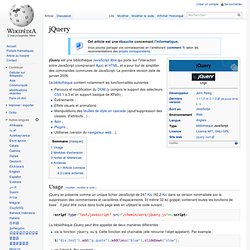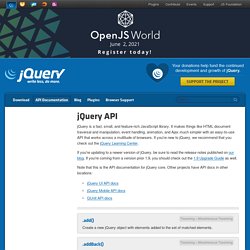 Add elements to the set of matched elements. Add the previous set of elements on the stack to the current set, optionally filtered by a selector. Adds the specified class(es) to each of the set of matched elements.
Advertisement Over the last year, Smashing Magazine has evolved. We've been publishing fewer lists and more in-depth articles about design and Web development. We have invited professionals and high-profile developers to write for us.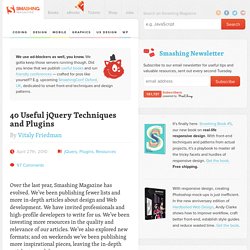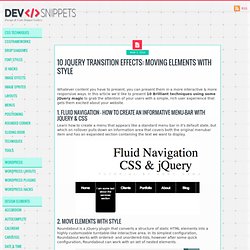 Whatever content you have to present, you can present them in a more interactive & more responsive ways. In this article we'd like to present 10 Brilliant techniques using some jQuery magic to grab the attention of your users with a simple, rich user experience that gets them excited about your website. 1. Fluid Navigation – How to create an informative menu-bar with jQuery & CSS Learn how to create a menu that appears like a standard menu bar in it's default state, but which on rollover pulls down an information area that covers both the original menubar item and has an expanded section containing the text we want to display.