iOS Dev inside
iOS Human Interface Guidelines: Custom Icon and Image Creation Guidelines
iPhone Dev Center: String Programming Guide for Cocoa: String Fo
String Programming Guide for Cocoa: String Format Specifiers
CodingGuidelinesForCocoa.pdf
ModalViewController presentModalViewController
iPhone Dev Center - Apple Developer Connection
iPhone Dev Center: iPhone Application Programming Guide: Introdu
Introduction to The Objective-C
NSUserDefaults Class Reference
I am looking for an example in which NSUserDefaults has been used. Can anyone help out? http://developer.apple.com/documentation/Cocoa/Reference/Foundation/Classes/NSUserDefaults_Class/ NSUserDefaults is a Cocoa Foundation class that allows an application to easily get and set its own preferences.
NSUserDefaults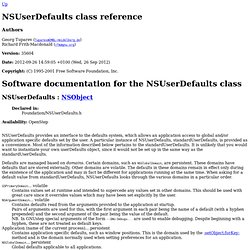 Up Authors Georg Tuparev ( Tuparev@EMBL-Heidelberg.de )
NSUserDefaults class reference
NSUserDefaults, sauvegarder vos préférences | MacFan
novembre 3, 2008 Pour sauvegarder des infos dans votre application il faut utiliser la classe NSUserDefaults. On peut y enregistrer les classes suivantes : NSString, NSArray, NSDictionary, NSNumber, NSDate, NSData Pour le reste faut utiliser un NSData.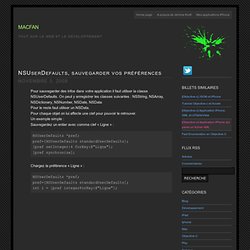 Mac Dev Center: User Defaults Programming Topics for Cocoa: Usin
iPhone Dev Center: Memory Management Programming Guide for Core
Forums - NSData and NSString
iPhone Dev Center: Memory Management Programming Guide for Core
iPhone Dev Center: Byte-Order Utilities Reference
iPhone OS Reference Library
iPhone Dev Center: Interface Builder User Guide: Introduction
iPhone Dev Center - Apple Developer Connection
iPhone Dev Center: UINavigationController Class Reference
Support - Discussions - [iPhone] Switch UIViews ...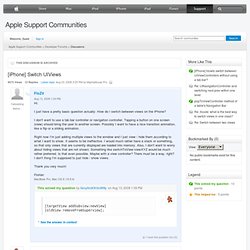 Hi. I just have a pretty basic question actually: How do I switch between views on the iPhone? I don't want to use a tab bar controller or navigation controller. Tapping a button on one screen (view) should bring the user to another screen. Possibly I want to have a nice transition animation, like a flip or a sliding animation. Right now I'm just adding multiple views to the window and I just view / hide them according to what I want to show.
Nous avons récemment vu comment gérer les bases d'une UIView.
Gérer des UIView avec un UIViewController sur iPhone | GeckoGeek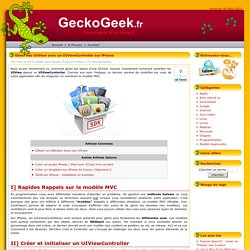 iPhone Dev Center: View Controller Programming Guide for iPhone