Images & Videos
Online PAO tools
Online TV and Broadcasting. Radio online. YouTube attaqué à coup de milliers de clips pornos. L'attaque menée contre YouTube ce week end serait l'œuvre d'un forum américain, 4chan qui disait vouloir protester contre la suppression des vidéos clips avec un « porn day ».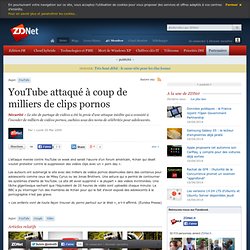 Les auteurs ont submergé le site avec des milliers de vidéos pornos dissimulées dans des contenus pour adolescents comme ceux de Miley Cyrus ou les Jonas Brothers. Une astuce qui a permis de contourner les systèmes d'alerte de YouTube. Le site dit avoir supprimé « la plupart » des vidéos incriminées. Une tâche gigantesque sachant que l'équivalent de 20 heures de vidéo sont uploadés chaque minute.
Share Video. SolEol – Un petit utilitaire bien pratique pour ne plus perdre de temps à trouver des sous titres. SolEol – Un petit utilitaire bien pratique pour ne plus perdre de temps à trouver des sous titres SolEol est un bon petit utilitaire qui tourne sous Mac, Windows et Linux et qui permet, simplement en glissant déposant un film sur l'icône appropriée, de télécharger automatiquement les sous-titres correspondants, dans la langue de votre choix.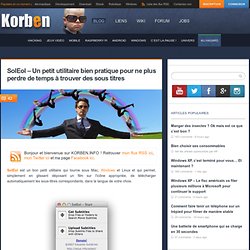 C'est pratique, rapide et SolEol propose même des fonctionnalités de renommage automatique des SRT. L'outil permet aussi d'uploader vos propres sous-titres sur OpenSubtitles.org. Bref, un outil en or ! L'essayer, c'est l'adopter ! SolEol. SolEol has been an ongoing pet project of mine to automate some tasks I do routinely regarding subtitle download and other video treatment.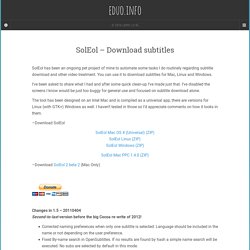 I've been asked to share what I had and after some quick clean-up I've made just that. I've disabled the screens I know would be just too buggy for general use and focused on subtitle download alone. Drag And Drop Subtitle Downloads With SolEol [Mac] The wait for subtitle downloads has become a far too common annoyance.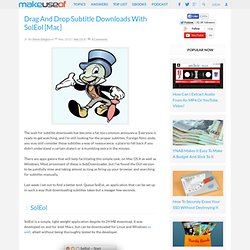 Everyone is ready to get watching, and I'm still looking for the proper subtitles. Foreign films aside, you may still consider those subtitles a way of reassurance; a place to fall back if you didn't understand a certain dialect or a mumbling extra in the movies. There are apps galore that will help facilitating this simple task; on Mac OS X as well as Windows. Most prominent of these is SubDownloader, but I've found the GUI version to be painfully slow and taking almost as long as firing up your browser and searching for subtitles manually. Last week I set out to find a better tool.
Transmission
Photos images. Share Photos. Anyclip, Live From TechCrunch50 09/15/09 03:33PM anyclip TechCru. AnyClip. Video.
---