Image Video tools
"Welcome" in the eFake world
Par Korben Je voulais me remettre mettre au sport puis j'ai découvert que des développeurs allemands de l'institut informatique Max Planck à Saarbrücken avaient créé un petit programme capable de modéliser le corps d'une personne sur une vidéo pour, ensuite changer son aspect. Agrandir la personne, lui augmenter sa masse musculaire, l'amincir ...etc. Le top pour les vieux acteurs tous frippés qui veulent prolonger leur carrière ou pour les geeks à gros os comme moi qui disent toujours "Le sport c'est bon pour la santé, demain je m'y mets" et en fait... non. [ Source et photo ]
La retouche vidéo pour les gringalets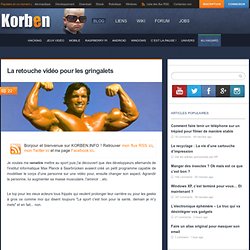 MovieReshape: Tracking and Reshaping of Humans in Videos
Télécharger une vidéo en streaming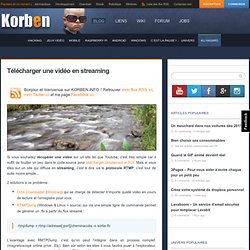 Par Korben Si vous souhaitez récupérer une vidéo sur un site tel que Youtube, c'est très simple car il suffit de fouiller un peu dans le code source pour télécharger simplement le FLV . Mais si vous êtes sur un site qui diffuse en streaming , c'est à dire via le protocole RTMP , c'est tout de suite moins simple...
YouCube by Aaron Meyers
Tvnima (beta)
Un logiciel pour savoir quand une photo est truquée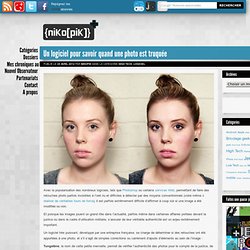 Avec la popularisation des nombreux logiciels, tels que Photoshop ou certains services Web , permettant de faire des retouches photo parfois invisibles à l'oeil nu et difficiles à détecter par des moyens conventionnels (voire même à réaliser de véritables tours de force ), il est parfois extrêmement difficile d'affirmer à coup sûr si une image a été modifiée ou non. Et puisque les images jouent un grand rôle dans l'actualité, parfois même dans certaines affaires portées devant la justice ou dans le cadre d'utilisation militaire, s'assurer de leur véritable authenticité est un enjeu extrêmement important. Un logiciel très puissant, développé par une entreprise française, se charge de déterminer si des retouches ont été apportées à une photo, et s'il s'agit de simples corrections ou carrément d'ajouts d'éléments au sein de l'image :
Draw Blog and Wiki images on Cacoo Diagrams created on Cacoo can be embedded in your Blog or Wiki in PNG format. If you edit the diagram in Cacoo, the embedded image will be replaced automatically. Export as PDF and SVG! Diagrams can be exported in vector formats - PDF, SVG, etc. Exported diagrams can be printed out or re-edited on other graphic editors, such as Adobe Illustrator.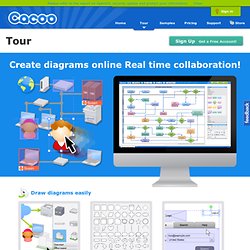 ZOOMORAMA - Franklin Servan-Schreiber : "Je suis un metteur en s
Gigapixel Photography - Creators of High-Resolution Images
Zoomorama - Accueil
Seadragon : Microsoft Live Labs
tesetd & "approved "by bornali ;-) by drone Sep 22