Huge movies
Après The Dark Night Rises et Inception, CinemaSins revient pour déglinguer du blockbuster ! Après avoir fait sourire pas mal de personnes en relevant 37 incohérences dans Inception, Cinema Sins s'attaque aujourd'hui à Skyfall. Ce ne sont pas moins de 62 fails que relève cette fois le youtuber dans son dernier « Everything wrong with ». Je me rappelle encore du jour où je suis sorti de la salle de cinéma, et où tout le monde me regardait de travers parce que j'avais dit « Les gens adorent ce film ?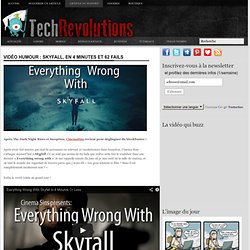 Vidéo Humour : Skyfall, en 4 minutes et 62 fails
Someone You Used To Know - Part 1
Harry Callahan : Go ahead, make my day.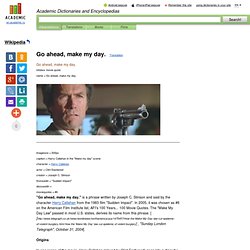 Infobox movie quote name = Go ahead, make my day. imagesize = 300px caption = Harry Callahan in the "Make my day" scene character = Harry Callahan actor = creator = firstusedin = "" alsousedin = moviequotes = #6 "Go ahead, make my day." is a phrase written by and said by the character Harry Callahan from the film "". In , it was chosen as #6 on the list, . The "" passed in most U.S. states, derives its name from this phrase. [ [http://www.telegraph.co.uk/news/worldnews/northamerica/usa/1475457/How-the-Make-My-Day-law-cut-epidemic-of-violent-burglary.html How the 'Make My Day' law cut epidemic of violent burglary] , "Sunday London Telegraph", October 31, 2004]
Make my day Punk
Requiem for a Dream (piano)
Edit Storyline On the day that Hurricane Katrina hits New Orleans, elderly Daisy Williams (nee Fuller) is on her deathbed in a New Orleans hospital. At her side is her adult daughter, Caroline. Daisy asks Caroline to read to her aloud the diary of Daisy's lifelong friend, Benjamin Button. Benjamin's diary recounts his entire extraordinary life, the primary unusual aspect of which was his aging backwards, being diagnosed with several aging diseases at birth and thus given little chance of survival, but who does survive and gets younger with time.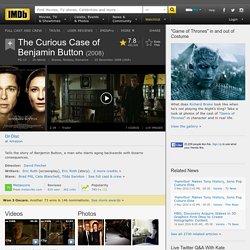 L'étrange histoire de Benjamin Button (2008
Je vais bien, ne t'en fais pas (2006
Mister K - AaRON
Endless Song - AaRON