Hardware
Hardware repare (services)
Connection usb3 and after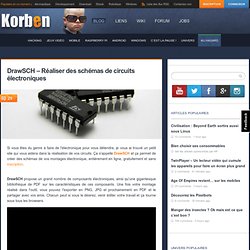 Par Korben Si vous êtes du genre à faire de l'électronique pour vous détendre, je vous ai trouvé un petit site qui vous aidera dans la réalisation de vos circuits. Ça s'appelle DrawSCH et ça permet de créer des schémas de vos montages électronique, entièrement en ligne, gratuitement et sans inscription. DrawSCH propose un grand nombre de composants électroniques, ainsi qu'une gigantesque bibliothèque de PDF sur les caractéristiques de ces composants. Une fois votre montage réalisé dans l' outil , vous pouvez l'exporter en PNG, JPG et prochainement en PDF et le partager avec vos amis. Chacun peut si vous le désirez, venir éditer votre travail et ça tourne sous tous les browsers.
DrawSCH – Réaliser des schémas de circuits électroniques
Datasheet Zone & DrawSCH : One stop to find datasheet,IC pinouts and application circuits & Draw schematics online for free!!!
Keyboard Mouse Pad controler (Hardware devices)
DIY hardware - electronic