Google Inc.
Parody Google. Les fonctionnalités de Google Chrome expliquées par l'image - Gi. Doodles: 2011 April - June. Google Inc. Startegy. « Le Web libre est en train d'affronter la plus grande menace jamais rencontrée jusqu'à présent » d'après un des fondateurs de Google. Quand ce sont les hackers qui le crient depuis des années, bien peu de médias prennent la peine de les écouter, mais quand Sergey Brin, milliardaire co-fondateur de Google, prend la parole dans une interview exclusive et s'exprime sur les menaces qui s'élèvent contre un Internet ouvert et libre, l'impact n'est semble-t-il pas du tout le même !
Rares sont les personnes ayant autant d'influence qui acceptent de s'exprimer franchement sur ce genre de problématiques, et rien que pour ça, Brin mérite notre plus grand respect… Web freedom faces greatest threat ever, warns Google's Sergey Brin | Technology. The principles of openness and universal access that underpinned the creation of the internet three decades ago are under greater threat than ever, according to Google co-founder Sergey Brin.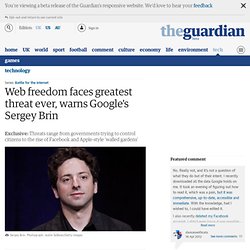 In an interview with the Guardian, Brin warned there were "very powerful forces that have lined up against the open internet on all sides and around the world". "I am more worried than I have been in the past," he said.
---