G+ Oops
Ok, I relent. Everyone wants to know why I left and answering individually isn't scaling so here it is, laid out in its long form. Read a little (I get to the punch line in the 3rd paragraph) or read it all. But a warning in advance: there is no drama here, no tell-all, no former colleagues bashed and nothing more than you couldn't already surmise from what's happening in the press these days surrounding Google and its attitudes toward user privacy and software developers. This is simply a more personal telling.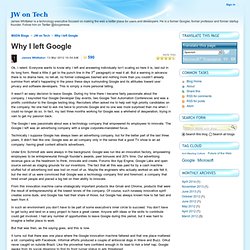 Abondance > Actualités > James-Whittaker, ex-googler, estime que Google a perdu sa capacité d'innovation James Whittaker (voir photo ci-dessous), ancien " engineering director " chez Google, a démissionné le mois dernier de la société pour rejoindre Microsoft et explique pourquoi sur son blog : selon lui, Google est aujourd'hui obsédé par la publicité, et non plus l'innovation et la technologie comme depuis sa création. De plus, sa rivalité avec Facebook et la volonté de Larry Page de pousser en avant Google+ au travers d'une obsession du social ne serait pas, toujours selon James Whittaker, la bonne voie. Le virage fatal a clairement été pris pour lui lorsque Larry Page a repris les rênes de l'entreprise au début de l'année 2011 .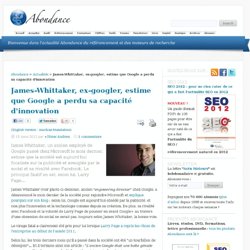 James-Whittaker, ex-googler, estime que Google a perdu sa capacité d'innovation - Abondance
Google+ had a chance to compete with Facebook. Not anymore
AFP/Getty Images. Shortly after Google launched its new social network in June, many companies—including several online magazines, Slate among them—attempted to create "brand profiles" on the service. The rush was a testament to Google's power to drive a flood of users to any new site it launches.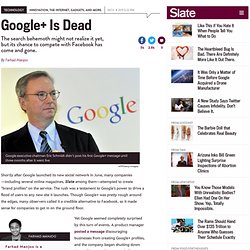 Hier Google a annoncé l'ouverture de Google+ à tout le monde. Mais malheureusement cela n'est pas le cas. En effet si vous avez un compte Google Apps vous êtes malheureusement exclu de ce « tout le monde », la preuve en image avec la fameuse flèche bleue de Google pour recruter des utilisateurs : Connection sur Google.fr avec une session « anonyme » : Connection avec une session connectée à un Gmail : Connection avec une session connectée à un Google Apps, plus de flèche bleue seulement un petit lien sous la boite de recherche :
Google+ pour tout le monde sauf pour les utilisateurs de Google Apps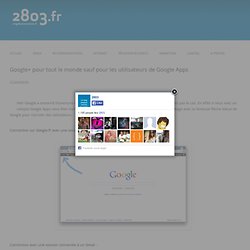 Google+ Update: Common Name Grace Period
G+ n'est pas une plateforme !?! … (Steve Yegge)