Fring = Video Calls, IM, VoIP
fring – VoIP mobile – le blog français » Blog Archive » 1ers appels vidéos pour les utilisateurs d'Android !
Our journey from pioneering mobile VoIP to joining GENBAND Since pioneering mobile Voice-over-IP communications back in 2006, we've had a great ride. We've enjoyed and driven this industry's technological, financial and social evolution from a time in which only a few had smartphones smart enough to make the world's first free mobile VoIP calls, to a world where consumers expect the rich services and cost savings that mobile Internet communication delivers.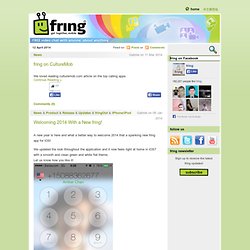 Fring - Les appels vidéos disponibles sur Android
28mai Nous vous avions montré il y a quelques semaines la nouvelle fonctionnalité de Fring, la vidéo conférence en WIFI et en 3G. Cette fonctionnalité est maintenant disponible dans la version publique de Fring, même si il est plus pratique d'avoir un terminal avec 2 caméras, la vidéo-conférence fonctionnera tout de même sur tous les terminaux (bon il faudra tourner le smartphone pour se montrer…). Pour rappel Fring est un client multi-protocoles compatibles avec Skype, Google talk, MSN, ICQ, Yahoo messenger, AIM, SIP, twitter. Vous pouvez télécharger Fring gratuitement sur Android Market. La vidéo officielle de Fring:
Plusieurs services permettent désormais la visioconférence entre smartphones sous systèmes d'exploitation mobile Android et iOS. Si l'application FaceTime d'Apple offre déjà la visiophonie d'iPhone à iPhone et que Google vient d'annoncer la disponibilité d'un chat vidéo dans Google Talk sous Android 2.3.4, d'autres services, outre le fameux Skype, permettent désormais des appels vidéo multiplateforme, à savoir entre des utilisateurs de smartphones sous Android et d'iPhone. Après quelques semaines de phase test, Fring vient en effet de mettre à disposition jeudi une mise à jour de son application. Cette dernière permet pour la première fois la vidéoconférence de groupe gratuite à quatre, entre utilisateurs d'iPhone et de smartphones sous Android.
Appels vidéos entre Android et iPhone