Freemium
Chris Anderson on FREE: The Future of Radical Price. Bio Chris Anderson Chris Anderson has served as editor in chief of WIRED since 2001.
Free-Conomics with Chris Anderson. Bio Chris Anderson Chris Anderson has served as editor in chief of WIRED since 2001.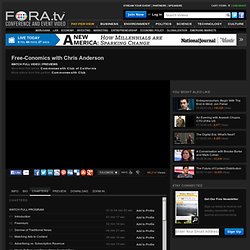 Freemium. In freemium business model, business tiers start with a "free" tier Freemium is a pricing strategy by which a product or service (typically a digital offering such as software, media, games or web services) is provided free of charge, but money (premium) is charged for proprietary features, functionality, or virtual goods.[1][2] The word "freemium" is a portmanteau neologism combining the two aspects of the business model: "free" and "premium".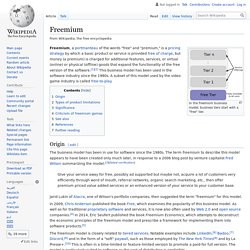 Origin[edit] Give your service away for free, possibly ad supported but maybe not, acquire a lot of customers very efficiently through word of mouth, referral networks, organic search marketing, etc., then offer premium priced value added services or an enhanced version of your service to your customer base. Jarid Lukin of Alacra then suggested the term "freemium" for this model.[3] The freemium model is closely related to tiered services. Attali : "plus personne n'acceptera de payer, malgré HADOPI" - P. Amanda Palmer: L'art de demander. Web 2.0 Expo NY 09: Douglas Rushkoff, "Radical Abundance: How We. Douglas Rushkoff.
Douglas Rushkoff » Life Inc. Movies. Books Life Inc.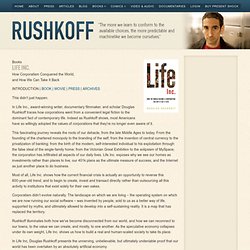 How Corporatism Conquered the World,and How We Can Take It Back This didn't just happen. In Life Inc., award-winning writer, documentary filmmaker, and scholar Douglas Rushkoff traces how corporations went from a convenient legal fiction to the dominant fact of contemporary life. Indeed as Rushkoff shows, most Americans have so willingly adopted the values of corporations that they're no longer even aware of it. This fascinating journey reveals the roots of our debacle, from the late Middle Ages to today.
Life Inc. The Movie.
Parody
Free-and-the-black-swan-722x1024.jpg (722×1024)
---