Export google data
Youtube à emporter. Youtube à emporter Vous vous souvenez de Google Takeout qui permet de télécharger ses données laissées sur les services du géant américain ?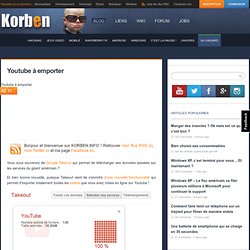 Et bien bonne nouvelle, puisque Takeout vient de s'enrichir d'une nouvelle fonctionnalité qui permet d'exporter totalement toutes les vidéos que vous avez mises en ligne sur Youtube ! Et pas les vidéos converties mais plutôt la vidéo originale que vous avez uploadé vous même avec vos petits doigts boudinés C'est quand même plutôt cool de pouvoir faire ça et c'est un bon pas vers l'open data !
Chrome Bookmarks. Warum ist es wichtig, dass ich auf diese Daten zugreifen kann?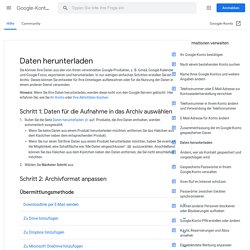 Es ist wichtig, dass Sie auf Ihre Google-Daten zugreifen können, wann immer Sie möchten und wo Sie möchten – ganz gleich, ob Sie sie z. B. in einen anderen Dienst importieren oder einfach archivieren möchten. Meistens versuchen Nutzer erst, Daten aus einem Produkt zu exportieren, wenn sie das Produkt verlassen möc. Aus diesem Grund sollten Sie sich die folgenden drei Fragen stellen, bevor Sie ein Produkt nutzen, in dem Ihre Daten gespeichert werden:
The Data Liberation Front. Why is it important that I have access to this data?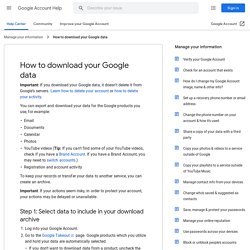 It's important that you can access your Google data when you want it, where you want it - whether is it to import it into another service or just create your own copy for your archives. People usually don't look to see if they can get their data out of a product until they decide that they want to leave. For this reason, we always encourage you to ask these three questions before starting to use a product that will store your data: Exportez vos données Google. Exportez vos données Google Si vous utilisez à fond les services de Google, sachez que vous avez la possibilité de récupérer vos infos sous forme d'une archive zip contenant les photos de Picasa, les contenus postés sur Buzz, Google+, la liste de vos contacts sous forme de carte VCF, votre profil Google sous la forme d'un fichier JSON...etc Ça prend 30 secondes, et ça vous permettra de conserver bien au chaud sur votre disque dur, tous vos méfaits online, même si votre compte Google disparait...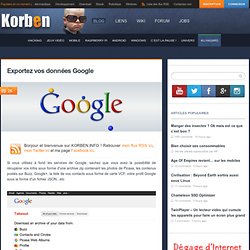 Ce service s'appelle Google Takeout. Vous avez aimé cet article ? Alors partagez-le avec vos amis en cliquant sur les boutons ci-dessous :
---