Export google data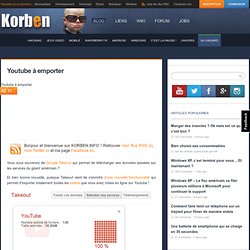 Youtube à emporter
Youtube à emporter Vous vous souvenez de Google Takeout qui permet de télécharger ses données laissées sur les services du géant américain ? Et bien bonne nouvelle, puisque Takeout vient de s'enrichir d'une nouvelle fonctionnalité qui permet d'exporter totalement toutes les vidéos que vous avez mises en ligne sur Youtube ! Et pas les vidéos converties mais plutôt la vidéo originale que vous avez uploadé vous même avec vos petits doigts boudinés C'est quand même plutôt cool de pouvoir faire ça et c'est un bon pas vers l'open data !
Escaping to Google Chrome If you've ever wanted to try Google Chrome, moving your bookmarks into Chrome is fairly simple. When starting up Chrome for the first time, it will prompt you for importing bookmarks from other browsers installed on your machine.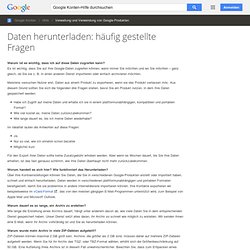 Chrome Bookmarks
Exportez vos données Google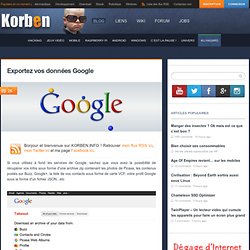 Exportez vos données Google Bonjour et bienvenue ! Si vous aimez cet article, n'hésitez pas à vous abonner au site via son flux RSS suivre Korben.info. Si vous utilisez à fond les services de Google, sachez que vous avez la possibilité de récupérer vos infos sous forme d'une archive zip contenant les photos de Picasa, les contenus postés sur Buzz, Google+, la liste de vos contacts sous forme de carte VCF, votre profil Google sous la forme d'un fichier JSON...etc Ça prend 30 secondes, et ça vous permettra de conserver bien au chaud sur votre disque dur, tous vos méfaits online, même si votre compte Google disparait... Ce service s'appelle Google Takeout.