Earthship
Accueil | Solution Era | Québec
Earthship Webinar: March 20, 2010: Part 1 of 8
Earthship Webinar: March 20, 2010: Part 1 of 8
Earthship Webinar: March 20, 2010: Part 2 of 8
Earthship Webinar: March 20, 2010: Part 3 of 8
Earthship Webinar: March 20, 2010: Part 4 of 8
Earthship Webinar: March 20, 2010: Part 5 of 8
Earthship Webinar: March 20, 2010: Part 6 of 8
Earthship Webinar: March 20, 2010: Part 7 of 8
Earthship Webinar: March 20, 2010: Part 8 of 8
Earthship...des maisons pour pas cher! Les Earthships (ou Vaisseaux terrestres) sont des habitations inventées par l'architecte américain Mickael Reynolds dans les années 70 avec comme perspective de créer des habitations totalement autonomes à moindre coût.
Earthship...des maisons pour pas cher! - wikistrike.over-blog.com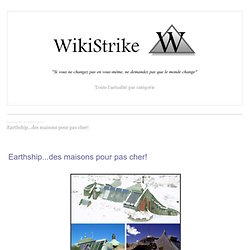 South and East view of Earthship passive solar home An earthship is a type of passive solar house made of natural and recycled materials. Designed and marketed by Earthship Biotecture of Taos, New Mexico , the homes are primarily constructed to work as autonomous buildings and are generally made of earth-filled tires , using thermal mass construction to naturally regulate indoor temperature.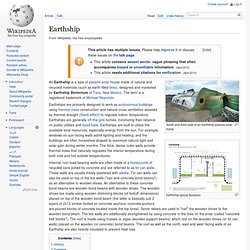 Earthship Demonstration - III
Earthship France
Earthships Basics and Michael Reynolds Interview
Earthship Codes, Permits, Regulations and Laws
Get Involved
Earthship
earthship