Critics
Photos - Google+
+Fatima Castro I with you, that asshole CJ Hildebdrandt should put his brain on his head and not in his asshole and seat on. I don't think he been to Africa, south east asia or even his own country to see for himself. I was dammm fucking poor like this kids before. I know what hungry and poor is, most don't live long, some will die of disease.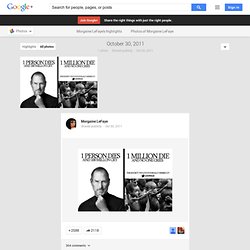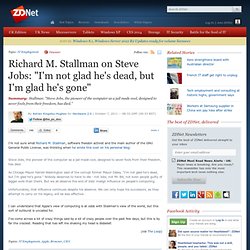 I'm not sure what Richard M. Stallman, software freedon activist and the main author of the GNU General Public License, was thinking when he wrote this over on his personal blog: Steve Jobs, the pioneer of the computer as a jail made cool, designed to sever fools from their freedom, has died.
Richard M. Stallman on Steve Jobs: "I'm not glad he's dead, but I'm glad he's gone"
Toute l'actu que j'ai loupée pendant la semaine !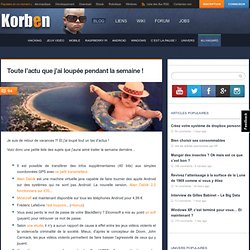 Toute l'actu que j'ai loupée pendant la semaine ! Je suis de retour de vacances !!! Et j'ai loupé tout un tas d'actus ! Voici donc une petite liste des sujets que j'aurai aimé traiter la semaine dernière... Il est possible de transférer des infos supplémentaires (40 bits) aux simples coordonnées GPS avec ce petit transmetteur.Alien Dalvik est une machine virtuelle java capable de faire tourner des applis Android sur des systèmes qui ne sont pas Android. La nouvelle version, Alien Dalvik 2.0 fonctionnera sur iOS...Minecraft est maintenant disponible sur tous les téléphones Android pour 4,99 €Frédéric Lefebvre l'est toujours...
Do go read Groklaw on this issue. But first reach into your pocket and empy out its contents, or walk through your kitchen and look at the corners on your toaster, waffle iron, and stove... not a non-rounded corner anywhere to be found in your pocke or our kitchen apliances. Go watch this video Johnny Mnemonic Future Internet excerpt from Johny Mnemonic (1985) where he does pinch-to-zoom (abet two handed) four times, and things have "inertia" in the display. (nothing "bounces" but nothing reaches a hard edge so one expects things would bounce.)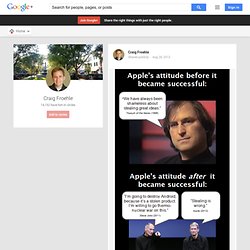 Craig Froehle - Google+