Critics
Photos - Google+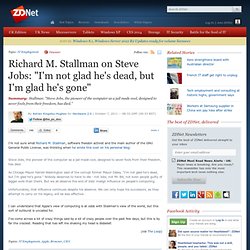 I'm not sure what Richard M. Stallman , software freedon activist and the main author of the GNU General Public License, was thinking when he wrote this over on his personal blog : Steve Jobs, the pioneer of the computer as a jail made cool, designed to sever fools from their freedom, has died.
Richard M. Stallman on Steve Jobs: "I'm not glad he's dead, but I'm glad he's gone"
Toute l'actu que j'ai loupée pendant la semaine !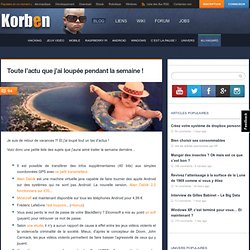 Par Korben Je suis de retour de vacances !!!
Do go read Groklaw on this issue. But first reach into your pocket and empy out its contents, or walk through your kitchen and look at the corners on your toaster, waffle iron, and stove... not a non-rounded corner anywhere to be found in your pocke or our kitchen apliances. Go watch this video Johnny Mnemonic Future Internet excerpt from Johny Mnemonic (1985) where he does pinch-to-zoom (abet two handed) four times, and things have "inertia" in the display.
Craig Froehle - Google+