Compare cross Mobile Dev. HTML5 based solutions
web applications - Sencha Touch or jQuery Mobile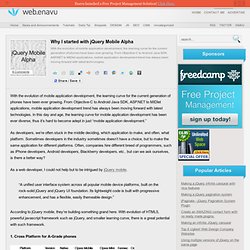 Why I started with jQuery Mobile Alpha | web enavu
With the evolution of mobile application development, the learning curve for the current generation of phones have been ever growing. From Objective-C to Android Java SDK, ASP.NET to MIDlet applications, mobile application development trend has always been moving forward with latest technologies.
Approche Le développement avec Sencha différe singulièrement des autres frameworks que j'ai présentés. En effet, quand jQTouch et jQueryMobile se contentent de fournir du CSS et d'améliorer un site web pour l'adapter au mobile, Sencha Touch fourni des composants d'UI en JavaScript et en génère ensuite les éléments HTML.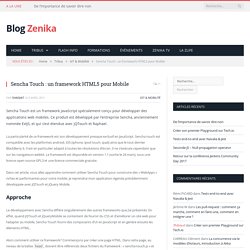 Sencha Touch : un framework HTML5 pour Mobile
Mobile Development with jQuery, Sencha and PhoneGap, 15 – 17 November 2011 | akosma software
Invisible GmbH and akosma software are thrilled to announce their latest collaboration: a three day training about mobile web app development using jQuery, Sencha Touch and PhoneGap!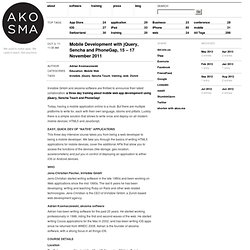 Last night, I finished re-doing the mobile version of this site using jQuery Mobile .
jQuery Mobile vs. Sencha Touch | Tyson Lloyd Cadenhead – User Interface Developer
Beautyindesign.com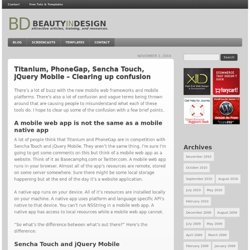 There's a lot of buzz with the new mobile web frameworks and mobile platforms.
Sencha Touch - Mathias DESLOGES - ParisJS Meetup 5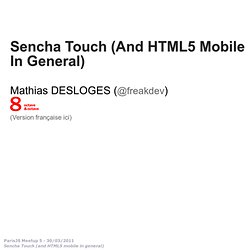 Librairies/frameworks "HTML5 mobile" Librairies zepto iScroll Frameworks jQTouch / jQuery Mobile Sencha Touch
Sencha demonstrates HTML 5 can be faster than native iOS or Android apps (Facebook example)
When we started what became Sencha, we made a bet on the web: a bet that modern application development didn't need anything except the browser, a great set of frameworks and a great set of tools.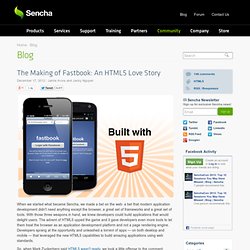 The Making of Fastbook: An HTML5 Love Story
Fastbook
Mobile Web UIs - jQuery Mobile and Sencha Touch - Distractable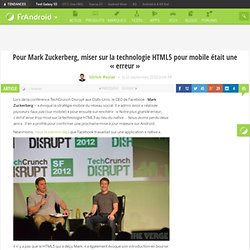 Pour Mark Zuckerberg, miser sur la technologie HTML5 pour mobile était une « erreur » - FrAndroid - Android
Vous êtes ici : Home » Applications Android » Pour Mark Zuckerberg, miser sur la technologie HTML5 pour mobile était une "erreur"
Mark Zuckerberg promises a native Android app, says betting on HTML5 for mobile was a 'mistake'
Speaking with Michael Arrington at the TechCrunch Disrupt conference, Facebook CEO Mark Zuckerberg admitted that "we've had a bunch of missteps on [mobile]," specifically referring to its mobile app strategy.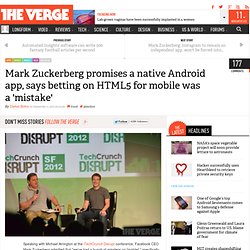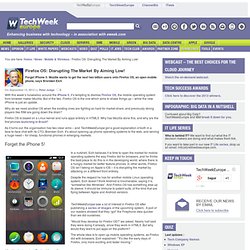 Firefox OS Disrupts: It Is A Web-Based Phone For emerging Markets
With this week's hulaballoo around the iPhone 5 , it's tempting to dismiss Firefox OS , the mobile operating system from browser maker Mozilla.
Comparing Mobile Web (HTML5) Frameworks: Sencha Touch, jQuery Mobile, jQTouch, Titanium « InterfaceThis - Dave Feldman rants about product design
It's been an exciting year for the mobile Web.
Compare WebView framework