Command line (Dos)
For DOS command help. Quick links About forAvailabilitySyntaxExamples About for The FOR variable is used for batch files to run a specified command when a parameter is met or specified.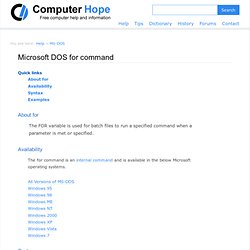 Escape Characters. All DOS versions interpret certain characters before executing a command.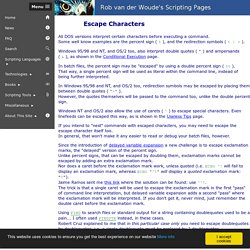 Some well know examples are the percent sign ( % ), and the redirection symbols ( < | > ). Windows 95/98 and NT, and OS/2 too, also interpret double quotes ( " ) and ampersands ( & ), as shown in the Conditional Execution page. In batch files, the percent sign may be "escaped" by using a double percent sign ( %% ). That way, a single percent sign will be used as literal within the command line, instead of being furter interpreted. In Windows 95/98 and NT, and OS/2 too, redirection symbols may be escaped by placing them between double quotes ( ">" ).
Echo a Blank Line. XCOPY. Example[edit] Create a new directory by copying all contents of the existing directory, including any files or subdirectories having the "hidden" or "system" attributes and empty directories. xcopy e:\existing e:\newcopy /s /e /i /h If the directory names include blank signs(spaces), the names can be put in quotation marks. xcopy "D:\Documents and Settings\MY.USERNAME\My Documents\*" "E:\MYBACKUP\My Documents\" /D/E/C/Y.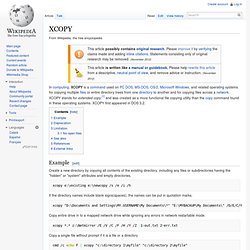 Sauvegardes manuelles: Xcopy et Robocopy - Win Vista - Windows & Software. Feature Comparison: XXCOPY vs ROBOCOPY. [ Back to Table of Contents ] [ << ] [ >> ] From: Kan Yabumoto tech@xxcopy.com To: XXCOPY user Subject: Feature comparison: XXCOPY vs ROBOCOPY Date: 2002-12-03 (Revised) =============================================================================== Introduction: Since we receive a large number of inquiries about XXCOPY's relative strength and weakness against ROBOCOPY, the administrator's tool bundled with Microsoft's Windows NT/2000/XP Reseource Kit, this article was created to contrast the two utilities.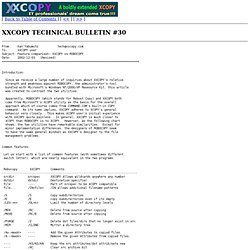 Apparently, ROBOCOPY (which stands for Robust Copy) and XXCOPY both come from Microsoft's XCOPY utility as the basis for the overall approach which of course comes from COMMAND.COM's built-in COPY command. As its name implies, XXCOPY adheres to XCOPY's general behavior very closely. BoxCryptor – Le chiffrement pour Dropbox. BoxCryptor – Le chiffrement pour Dropbox Si vous êtes un grand utilisateur de Dropbox, vous avez peut être conscience que si un jour quelqu'un trouve votre mot de passe, il pourra accéder directement à vos données.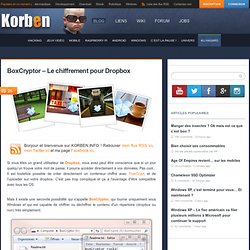 Pas cool... Il est toutefois possible de créer directement un conteneur chiffré avec TrueCrypt, et de l'uploader sur votre dropbox. C'est pas trop compliqué et ça a l'avantage d'être compatible avec tous les OS. Liste des commandes Windows - La solution. Remarques : Certaines commandes sont dangereuses (l'exemple de SYSKEY) et peuvent causer des problèmes pouvant conduire au formatage. D'autres commandes ne sont pas exécutables sous Windows XP ou des versions antérieures, je ne les ai pas toutes essayées. Les contributeurs sont libres d'effectuer toutes les corrections nécessaires. Sous Vista "Exécuter" n'est pas visible dans le menu démarrer, vous pouvez l'afficher en suivant cette astuce. Vous pouvez aussi ajouter votre propre commande, voir cette astuce. Suppression Recursive et RDMIR, FOR et DIR [RESOLU] - Shell/Batch - Programmation. Bonjour a tous.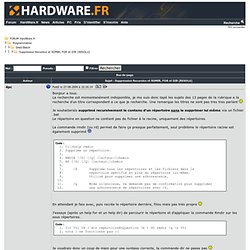 La recherche est momentanément indisponible, je me suis donc tapé les sujets des 13 pages de la rubrique a la recherche d'un titre correspondant a ce que je recherche. Une remarque les titres ne sont pas tres tres parlant. Visual Command Line – Un éditeur pour vos batchs. Visual Command Line – Un éditeur pour vos batchs Si vous êtes administrateur réseau, vous avez travaillez peut être sur un parc machine composé essentiellement de Windows.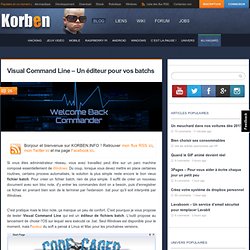 Du coup, lorsque vous devez mettre en place certaines routines, certains process automatisés, la solution la plus simple reste encore le bon vieux fichier batch. Batfiles: The DOS batch file programming handbook & Tutorial. DOS Command: SUBST. The description below is from the bookDOS the Easy Way by Everett Murdock Ph.D.
CLICK HERE for information about downloading the book. Type: External (3.1 and later) Mklink in Windows. Mklink is a MS Windows command line utility that you can use to create symbolic links or symlinks and hard links in MS Windows.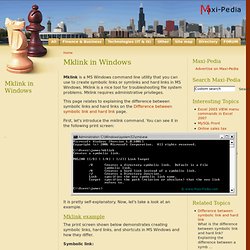 Mklink is a nice tool for troubleshooting file system problems. Mklink requires administrative privileges.
---