BumpTop 3D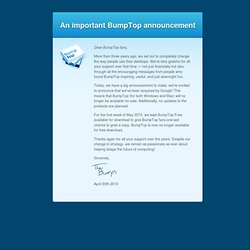 Dear BumpTop fans, More than three years ago, we set out to completely change the way people use their desktops. We're very grateful for all your support over that time — not just financially but also through all the encouraging messages from people who found BumpTop inspiring, useful, and just downright fun. Today, we have a big announcement to make: we're excited to announce that we've been acquired by Google!
While I would much prefer a tagged/categorised file organising method, I do think this idea has potential, especially when combined with MSoft's upcoming Surface technology. I've always thought the idea of a desktop (be it physical or digital) is to have an area to put KIV things, not an area for you to organise files - that's what folders and drawers are for. Now, replace those icons with resizeable labelled thumbnails, put this interface on a Surface screentop, and simulate folders on it, and here's something I could potentially use. Add in multi-touch capability so you could, say, use a sweep or two of your palm to quickly clear some working space, instead of having to flick items individually or draw selection boundaries (god, I hate selection boundaries).
BumpTop desktop emulates physical documents - Clips - Lifehacker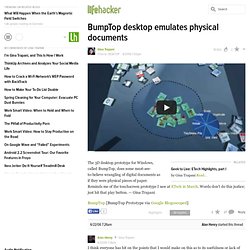 Les nouveaux bureaux de Google - Gizmodo -
BumpTop 3D Multi-Touch Desktop
C'est par un communiqué publié le 30 avril que Bump Technologies a annoncé son rachat par Google. Information que nos confrères de Cnet.com se sont fait confirmer auprès de la firme de Mountain View. Cette start-up a lancé il y a un an BumpTop, une application disponible pour Windows et Mac qui offre une vue en 3D de l'environnement du Bureau avec la possibilité de disposer les fichiers en piles bien alignées, en tas ou de les éparpiller un peu partout. BumpTop supporte également l'interface multipoint de Windows 7. Dans son message, Bump Technologies annonce qu'elle offre le logiciel en téléchargement pendant une semaine avant de cesser toute activité commerciale. Il n'y aura plus de mise à jour du produit et la version professionnelle ne bénéficiera plus du support à vie.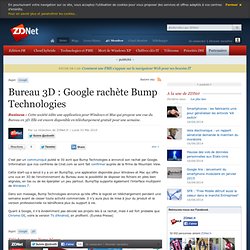 Bureau 3D : Google rachète Bump Technologies - Actualités - ZDNe