Browser
Cross platform Browser test
Performance / speed (Internet Browser)
Tools about the web / browser
For years, digital video has been soaring, just like still digital images 15 years earlier. It's now easy to capture video, editing it is now possible thanks to user-friendly applications and with broadband becoming more common, the pipes are now big enough to download video. The only caveat is that Web browsers have not evolved over time to include video, because the dominant browser vendor had little reason to invest in it.
Making video a first class citizen of the Web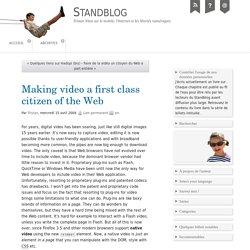 ZDNet.fr - Quel est votre sentiment sur Internet Explorer 8 ?Tristan Nitot - IE 8, c'est un peu comme tout dans la vie.
Tristan Nitot, Mozilla : « Des applications type Gmail butent su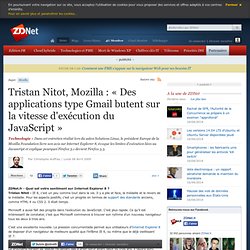 Les utilisateurs d'Internet Explorer sont des singes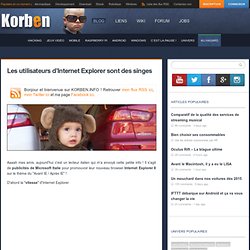 Aaaah mes amis, aujourd'hui c'est un lecteur italien qui m'a envoyé cette petite info !
application / software (Browser)