Bios
1 October 2010 Last updated at 05:11 ET By Mark Ward Technology correspondent, BBC News The Bios in modern computers dates from the earliest IBM PCs New PCs could start in just seconds, thanks to an update to one of the oldest parts of desktop computers. The upgrade will spell the end for the 25-year-old PC start-up software known as Bios that initialises a machine so its operating system can get going.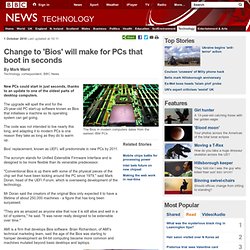 Change to 'Bios' will make for PCs that boot in seconds
Outil de mise à jour recommandé : En 2 minutes, DriverBoost localise et télécharge les pilotes USB les plus récents et qui correspondent exactement à votre système et aux périphériques qui y sont connectés. Cela permet de réparer intégralement les erreurs de type "Dispositif non reconnu". Pilotes USB officiels Télécharger maintenant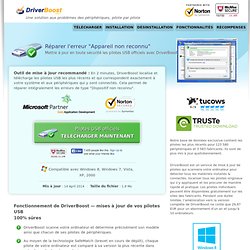 Résoudre appareil non reconnu | Mettre à jour les pilotes USB
Your download will begin shortly... If your download does not start after a few seconds, use this link . Please follow the instructions below to easily install eSupport.com's BIOSAgentPlus.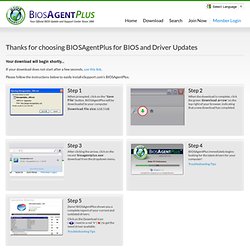 Download BIOSAgentPlus to extend the life of your computer
Un article de Wikipédia, l'encyclopédie libre. Pour les articles homonymes, voir EFI . Fonctionnement synthétique de l'EFI (Extensible Firmware Interface) La norme Unified Extensible Firmware Interface (UEFI, « interface micrologicielle extensible unifiée ») définit un logiciel intermédiaire entre le micrologiciel (firmware) et le système d'exploitation (OS) d'un ordinateur . Cette interface succède sur certaines cartes-mères au BIOS . Elle fait suite à EFI ( Extensible Firmware Interface ), conçue par Intel pour les processeurs Itanium .
Extensible Firmware Interface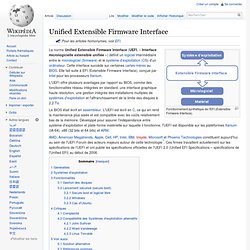 Trusted Platform Module
Un article de Wikipédia, l'encyclopédie libre. Composants internes d'un Trusted Platform Module Le Trusted Platform Module (également nommé puce TPM ou puce Fritz ) est un composant cryptographique matériel, sur lequel s'appuie l'implémentation au niveau matériel du système NGSCB . Il est appelé à être intégré sur les cartes mères des ordinateurs et autres équipements électroniques et informatiques conformes aux spécifications du Trusted Computing Group .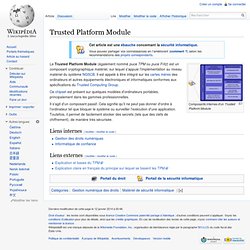 coreboot is a Free Software project aimed at replacing the proprietary BIOS (firmware) found in most computers. coreboot performs a little bit of hardware initialization and then executes additional boot logic, called a payload . With the separation of hardware initialization and later boot logic, coreboot can scale from specialized applications that run directly from firmware, run operating systems in flash, load custom bootloaders, or implement firmware standards, like PC BIOS services or UEFI . This allows for systems to only include the features necessary in the target application, reducing the amount of code and flash space required. coreboot currently supports over 230 different mainboards. Check the Support page to see if your system is supported.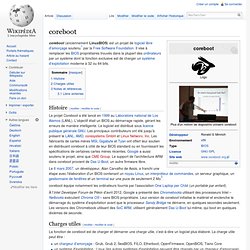 coreboot
Un article de Wikipédia, l'encyclopédie libre. coreboot (anciennement LinuxBIOS ) est un projet de logiciel libre d'amorçage soutenu [ 1 ] par la Free Software Foundation . Il vise à remplacer les BIOS propriétaires trouvés dans la plupart des ordinateurs par un système dont la fonction exclusive est de charger un système d'exploitation moderne à 32 ou 64 bits. Histoire [ modifier ]
FreeDOS | The FreeDOS Project
MEDION P83020 (MD 85968) Aktives 2.1-Design-Sound-System – Aldi ab 10.12. | Pierre Markuse
Geeignet für PC und Notebook - 29,99 Euro MEDION P83020 (MD 85968) Aktives 2.1-Design-Sound-System – Aldi ab 10.12. Ab dem 10.12. gibt es bei Aldi Nord das MEDION P83020 (MD 85968) Aktives 2.1-Design-Sound-System , welches neben seinem weißen Design auch über blaue Beleuchtung am Lautsprecher und am Standfuß verfügt. Der Preis für das Set liegt bei 29,99 Euro . Die technischen Daten des MEDION P83020 (MD 85968) Aktives 2.1-Design-Sound-System sehen wie folgt aus: Satelliten: 2 x 5 Watt RMS Subwoofer: 1 x 20 Watt RMS Magnetische Abschirmung Lautstärke- und Bassregler am Subwoofer Audio-Eingang ( 3,5-mm-Klinke ) Audio-Ausgang für Satelliten ( 2 x Cinch ) ca. 160 x 220 x 175 mm ( Subwoofer ) ca. 60 x 226 x 60 mm ( Lautsprecher ) Gewicht inkl.