Asynchronous Vidéo
Zen Video Project
Pour contacter Olivier Cadou : ocadou@kadrige.com Encore une e-interview des plus intéressantes (mais ne sont-elles pas toutes intéressantes ?). Ici Olivier, qui a fondé Kadrige, nous fait un cours de "commerce 2.0".. De plus, pas besoin avec lui de poser des questions, il déroule son affaire comme s'il était prof à HEC (Hautes Etudes Commerciales)..
vous Olivier Cadou from Paris ? Kadrige : le virtuel c'est mieux que le réel en face à face pour faire des affaires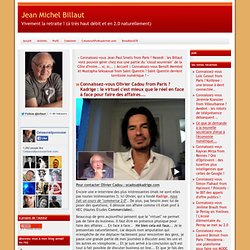 686295582
bms.24open
50241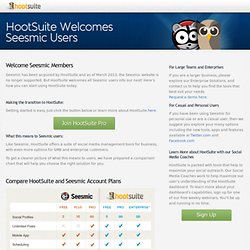 Seesmic has been acquired by HootSuite and as of March 2013, the Seesmic website is no longer supported. But HootSuite welcomes all Seesmic users into our nest! Here's how you can start using HootSuite today.
Welcome to Seesmic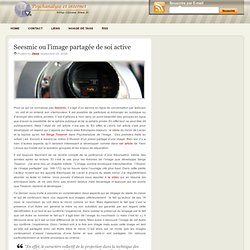 Seesmic ou l'image partagee de soi active | Le blog de jisee
Pour ce qui ne connaisse pas Seesmic, il s'agit d'un service en ligne de conversation par webcam : on voit et on entend son interlocuteur. Il est possible de participer et échanger en publique ou d'envoyer des vidéos privées. C'est d'ailleurs à mon sens un point essentiel des groupes en ligne que d'avoir la possibilité de la sphère publique et de la sphère privée.
why don't we do a collaborative presentation?
Poodz - Forum de discussion vidéo
The OpenTok platform delivers all the global infrastructure, scalability, and featuresyou need to add WebRTC to your website or mobile application. Websites and apps come to life when you build on the OpenTok platform. Powerful Go beyond vanilla WebRTC with our industry-leading API. Faster time-to-market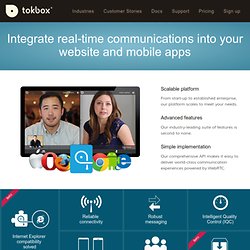 INTRO
Introduction à Tokbox
VISITE
Demo of TokBox.com
VIDEOBOO.COM
Videoboo - simple video upload | BestBefore Media, Ltd.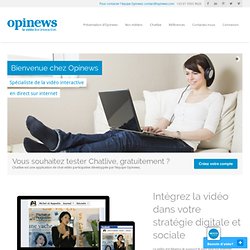 Qui-sommes-nous? Opinews est une sartup créée en mars 2011 par Onel Trouillot, Dario Daoud et Florian du Boÿs. Nous proposons une offre globale de vidéo live sur Internet, avec notamment Chatlive, une application permettant aux internautes d'interagir en direct par tchat (modéré) et par webcams. La solution ne nécessite aucun téléchargement logiciel et s'incruste (« embed ») en quelques clics sur le(s) sites internets, pages facebook, des entreprises.
babeloo.be
Devolia.fr - Communication d'entreprise à la demande