Android & µcontroler (Arduino)
Google chooses Arduino as a development platform for Android. At the conference Google I/O 2011, held on 10 and 11 May 2011 at the Moscone Center in San Francisco, Google announced a new development platform for Android based on Arduino.
Google, Android and Arduino Google I/O is an event able to attract thousands of developers from around the world, who meet in order to learn the new technologies developed by the Mountain View's company with applications in the web, mobile, and enterprise fields; technologies including, among others: Android, Google Chrome, Google APIs, Google Web Toolkit, and App Engine.
Other hardware
Android Open 2011: Massimo Banzi, "Arduino & Android, Infinite Possibilities" Amarino - "Android meets Arduino" - Home. Google announces Android Open Accessory standard, Arduino-based ADK. Google's really not leaving any stone unturned at IO today -- it's now also announced a brand new Android Open Accessory standard, which promises to effectively be its own version of "Made for iPod.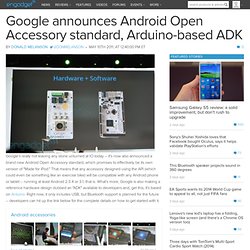 " That means that any accessory designed using the API (which could even be something like an exercise bike) will be compatible with any Android phone or tablet -- running at least Android 2.3.4 or 3.1, that is. What's more, Google is also making a reference hardware design dubbed an "ADK" available to developers and, get this, it's based on Arduino. Right now, it only includes USB, but Bluetooth support is planned for the future -- developers can hit up the link below for the complete details on how to get started with it.
Android accessories. Open Accessory Development Kit. The Accessory Development Kit (ADK) is a reference implementation for hardware manufacturers and hobbyists to use as a starting point for building accessories for Android.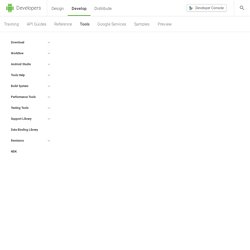 Each ADK release is provided with source code and hardware specifications to make the process of developing your own accessories easier. Creating new and alternative hardware based on the ADK is encouraged! Android accessories can be audio docking stations, exercise machines, personal medical testing devices, weather stations, or any other external hardware device that adds to the functionality of Android. Labs - Index browse. Got a Mega ADK in your hands and can't wait to use it?
Not interested in the project's history? Visit the step by step tutorial and start playing with your Arduino board, Processing, and your Android device. This page gives background on Android's Accessory Development Kit and the Arduino Mega ADK, which was designed to work with Android. If you're not familiar with the Android ADK and what development tools are available, read on. Description. Android™ meets arduino. The android meets arduino workshop is aimed at people who want to connect Arduino projects to Android phones.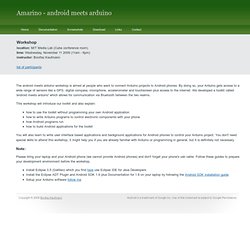 By doing so, your Arduino gets access to a wide range of sensors like a GPS, digital compass, microphone, accelerometer and touchscreen plus access to the internet. We developed a toolkit called 'android meets arduino' which allows for communication via Bluetooth between the two realms. € 21.47 - Arduino v3.0 nano AVR ATmega328 p-20AU conseil d'administration.
---