Aimee Mullins
Aimee Mullins
Aimee Mullins (born 1976 in Allentown, Pennsylvania ) is an American athlete , actress, and fashion model best known for her athletic accomplishments.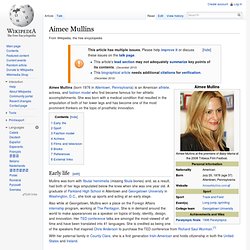 A - I - M - E - E - M - U - L - L - I - N - S
Aimee Mullins | Profile on TED.com
Aimee Mullins on running
Aimee Mullins and her 12 pairs of legs
La prothèse de l'homme-poisson
Une bonne prothèse reproduit autant que possible les formes et/ou les fonctions d'un membre perdu ou absent. L'individu handicapé l'apprécie d'autant plus lorsqu'elle combine légereté, ergonomie, esthétique et efficacité (cf.