Accessibility/ Electric Engine / wheels
Climbing Chiba wheelchair finds its legs when needed (w/ Video) (Phys.org)—Japan's resolve to come up with better wheelchairs for the disabled and aged for indoor and outdoor use has produced numerous prototypes showcased at special events.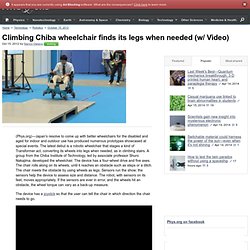 The latest debut is a robotic wheelchair that stages a kind of Transformer act, converting its wheels into legs when needed, as in climbing stairs. A group from the Chiba Institute of Technology, led by associate professor Shuro Nakajima, developed the wheelchair. The device has a four-wheel drive and five axes. The chair rolls along on its wheels, until it reaches an obstacle such as steps or a ditch. The chair meets the obstacle by using wheels as legs. Le robot vraiment portable - Gizmodo - Accueil Gizmodo Moov Le robot vraiment portable Conçu pour les amputés et les personnes qui ont du mal à marcher, le Chariot d'Exmovere est un véhicule robotisé portable qui peut être contrôlé par de subtils mouvements des hanches.
Avec sa taille compacte, les utilisateurs peuvent se déplacer dans des espace étroits plus facilement qu'avec une chaise roulante ou un scooter. YouTube - NuDrive - (www.MobilityBuy.com) £395. Et comment qu'il va le sieur Billaut ? (II) Avant de vous causer de ma pomme, je voudrais vous faire part de deux découvertes que je viens de faire sur le net.1/ Le Carrier wheelchair, qui a priori n'a plus rien à voir avec les voitures d'handicapés d'aujourd'hui (dont la mienne).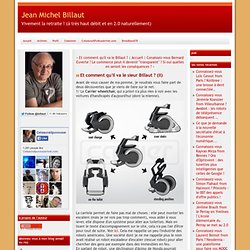 La carriole permet de faire pas mal de choses : elle peut monter les escaliers (mais je ne vois pas trop comment), vous aider à vous lever, elle dispose d'un système pour aller aux toilettes. Mais en lisant le texte d'accompagnement sur le site, cela n'a pas l'air d'être pour tout de suite. Videos | Galileo Mobility. YouTube - Galileo Mobility Capabilities. Galileo Mobility. Honda unveils U3-X, a new personal mobility device. Videos | Galileo Mobility. 盲導犬型ロボットを開発 | プレスリリース | 企業情報 | 日本精工(NSK) U3-X Personal Mobility Prototype. Quince. Une chaise multifonction pour les personnes à mobilité réduite. Avec ce concept, le designer Allen Chester G.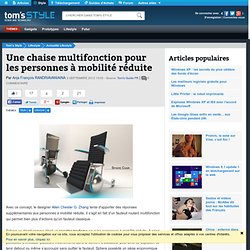 Zhang tente d'apporter des réponses supplémentaires aux personnes à mobilité réduite. Il s'agit en fait d'un fauteuil roulant multifonction qui permet bien plus d'actions qu'un fauteuil classique. Sphere se décrit comme étant un scooter moderne pour les personnes à mobilité réduite. A priori, c'est un fauteuil qui se distingue par sa capacité fonctionnelle. Engine.
---