3D Printing / Fab labs
4d Printing
Other (3D printing) Interactive lasercutting (constructable) Fab labs & co. 3D printing main ideas. Les FabLabs ouvrent la voie à l'open hardware. Le terme FabLab pourrait se traduire par Labo/Usine : soit un lieu où sont mises à disposition des utilisateurs des imprimantes d'un nouveau genre, qui usinent des produits en 3D.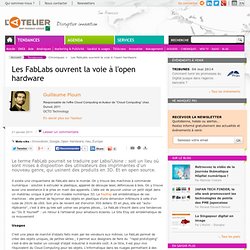 Et en open source. Il existe une cinquantaine de FabLabs dans le monde. 3D Printer. 3D Printing and MIT.
3D printing about Small
Styrofoam Robot. F.U.C.K. Pour faciliter la vie de son fils, grand amateur de LEGO, K'Nex, Duplo et j'en passe, un papa-hacker s'est amusé à fabriquer grâce à une imprimante 3D, 45 connecteurs universels pour plugger tous les jeux de constructions existants avec tous les autres.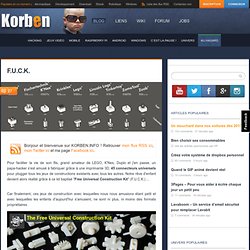 Notre rêve d'enfant devient alors réalité grâce à ce kit baptisé "Free Universal Construction Kit" (F.U.C.K.) ... Car finalement, ces jeux de construction avec lesquelles nous nous amusions étant petit et avec lesquelles les enfants d'aujourd'hui s'amusent, ne sont ni plus, ni moins des formats propriétaires. LEGO et les autres restent sur leurs gardes mais peuvent difficilement faire quelque chose contre ça.
La bonne nouvelle, c'est que tous ces modèles sont sous licence creative commons et chacun peut les imprimer sur sa propre imprimante 3D. Je trouve qu'il devrait aller encore plus loin et proposer carrément un équivalent libre que chacun (même les fabricants) pourrait adopter. The Free Universal Construction Kit. LEGO 3D Milling Machine - "3D Printer".
3d printng & medical. Des objets imprimés en 3D, avec de la lumière dedans | Back to the GEEK !
---