Social Media
Spokeo People Search | White Pages | Find People. PledgeMusic. Launch contest | 99designs. Weebly - Create a free website and a free blog. Self Publishing, Book Printing and Publishing Online - Lulu. Survey Methodology (Wiley Series in Survey Methodology) (9780470465462): Robert M. Groves, Floyd J. Fowler Jr., Mick P. Couper, James M. Lepkowski, Eleanor Singer, Roger Tourangeau. Online Survey Software Tool, Surveys, Tools | Key Survey WorldAPP. Online survey software - conduct your customer surveys and polls with Polldaddy | Polldaddy.com. SurveyMonkey: Free online survey software & questionnaire tool.
Telstra keeps 120 eyes on social media, checking for complaints | Information, Gadgets, Mobile Phones News & Reviews. TELSTRA has 60 people combing social media sites to sniff out people who complain about the company.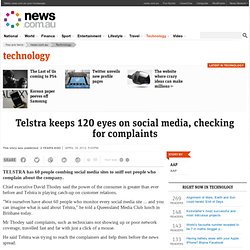 Chief executive David Thodey said the power of the consumer is greater than ever before and Telstra is playing catch-up on customer relations. "We ourselves have about 60 people who monitor every social media site ... and you can imagine what is said about Telstra," he told a Queensland Media Club lunch in Brisbane today. The Standard for Influence.
Presentation
Delicious.com - Discover Yourself! WordPress.com — Get a Free Blog Here. Ning – Create a Social Networking Site with Ning, the Best Social Site Platform. Social Media News and Web Tips – Mashable – The Social Media Guide. Forum Discussion Search with BoardTracker.com. XING - The professional network. The Enterprise Social Network.
---