Social Media
Survey Methodology (Wiley Series in Survey Methodology) (9780470465462): Robert M. Groves, Floyd J. Fowler Jr., Mick P. Couper, James M. Lepkowski, Eleanor Singer, Roger Tourangeau
Community Custom Solutions Manage user access with a custom portal that includes passwords and auto-population. Free trial | View Demos Survey Software Build, administer andmanage an effective surveycampaign of any size orcomplexity.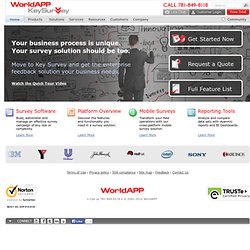 Online Survey Software Tool, Surveys, Tools | Key Survey WorldAPP
Telstra keeps 120 eyes on social media, checking for complaints | Information, Gadgets, Mobile Phones News & Reviews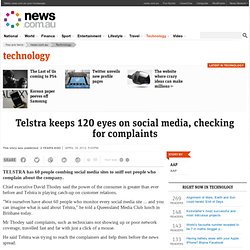 TELSTRA has 60 people combing social media sites to sniff out people who complain about the company. Chief executive David Thodey said the power of the consumer is greater than ever before and Telstra is playing catch-up on customer relations. "We ourselves have about 60 people who monitor every social media site ... and you can imagine what is said about Telstra," he told a Queensland Media Club lunch in Brisbane today.