Organisations
Certify Individuals | IPMA: International Project Management Association. While IPMA manages the 4-L-C system, the Certification Bodies of our Member Associations perform the actual assessments and certification.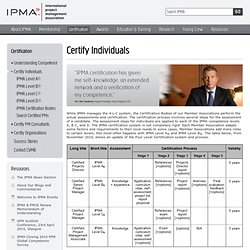 The certification process involves several steps for the assessment of a candidate. The assessment steps for individuals are applied to each of the IPMA competence levels A, B C, and D. The IPMA certification system is not completely rigid: Each Member Association adapts some factors and requirements to their local needs.In some cases, Member Associations add more roles to certain levels; this most-often happens with IPMA Level A® and IPMA Level B®.
The table below, from November 2010, shows an update of the Four Level Certification system and process. APM Body of Knowledge 5th edition. The 6th edition of the APM Body of Knowledge is available now Buy the APM Body of Knowledge, 5th edition from Turpin Distribution Description The APM Body of Knowledge is a key component of the APM FIVE Dimensions of Professionalism.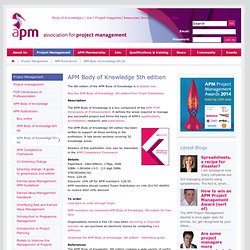 International Journal of Project Management. PMI. AIPM. IPMA. Best Management Practice for portfolio, programme, project risk and service management.
---