Organisations
Certify Individuals | IPMA: International Project Management Association
While IPMA manages the 4-L-C system, the Certification Bodies of our Member Associations perform the actual assessments and certification. The certification process involves several steps for the assessment of a candidate. The assessment steps for individuals are applied to each of the IPMA competence levels A, B C, and D. The IPMA certification system is not completely rigid: Each Member Association adapts some factors and requirements to their local needs.In some cases, Member Associations add more roles to certain levels; this most-often happens with IPMA Level A® and IPMA Level B®. The table below, from November 2010, shows an update of the Four Level Certification system and process.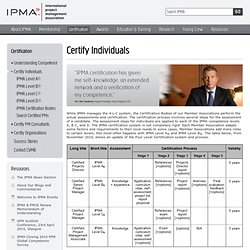 The 6th edition of the APM Body of Knowledge is available now Buy the APM Body of Knowledge, 5th edition from Turpin Distribution Description The APM Body of Knowledge is a key component of the APM FIVE Dimensions of Professionalism.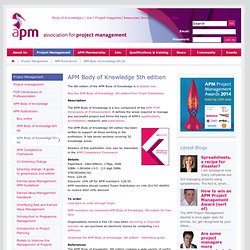 APM Body of Knowledge 5th edition
International Journal of Project Management
Earn a certification and outpace the competition PMI credentials distinguish you in the job market and can help you move ahead. Several certifications including the PMP® validate a range of education and experience levels in project management. Find out more or get started now to apply. Skilled at agile practices?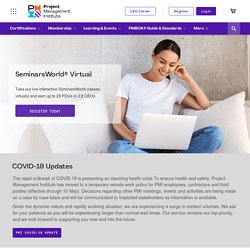 AIPM
IPMA's Young Crew programme is the premier global network for young professionals who are enthusiastic about project management. YC is a key part of IPMA, with groups in many Nations. Our activities include: Global Young Crew Workshop, held at the IPMA World CongressYoung Project Manager Award, to recognise outstanding achievementAdditional national and regional events, plus networking opportunities Join Us!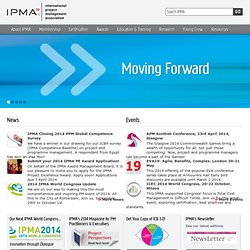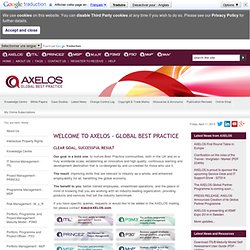 Our goal is a bold one: to nurture Best Practice communities, both in the UK and on a truly worldwide scale, establishing an innovative and high quality, continuous learning and development destination that is co-designed by and co-created for those who use it. The result: improving skills that are relevant to industry as a whole, and enhanced employability for all, benefiting the global economy. The benefit to you: better trained employees, streamlined operations, and the peace of mind of knowing that you are working with an industry-leading organization, providing products and services that set the industry benchmark. If you have specific queries, requests or would like to be added to the AXELOS mailing list please contact Ask@AXELOS.com.