Awards
European Quality Leader - EOQ - European Organization for Quality
A Quality Leader is a Leader in an organization having succeeded in moving the organization to success for the different stakeholders through his leadership and through the change and Quality Processes he has implemented directly through his team. The European Quality Leader is awarded by the EOQ to the best applicant to the yearly contest, by taking into account the defined EOQ-EQL criteria.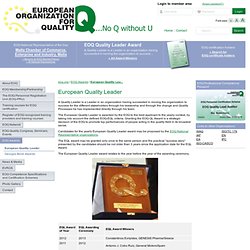 Australian Business Excellence Awards
Vokurka, Comparison of Quality Awards
Personal Awards Each year AOQ presents a number of Personal National Awards to members, usually at the Qualcon® conference dinner.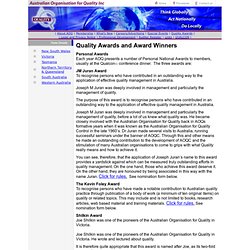 Australian Quality Awards
Australian Business Quality Awards |Small Business Service Awards| Business Awards
Baldrige Homepage
Baldrige applicants know that the journey is not about receiving a Presidential Award, although that's a nice goal.
Baldrige Performance Excellence Program