Awards
European Quality Leader - EOQ - European Organization for Quality
A Quality Leader is a Leader in an organization having succeeded in moving the organization to success for the different stakeholders through his leadership and through the change and Quality Processes he has implemented directly through his team. The European Quality Leader is awarded by the EOQ to the best applicant to the yearly contest, by taking into account the defined EOQ-EQL criteria. Granting the EOQ QL Award is a strategic decision of the EOQ to promote top performances of people acting in the quality field in its broadest sense. Candidates for the yearly European Quality Leader award may be proposed by the EOQ National Representative organizations. The EQL award may be granted only once to the same person and the practical "success story" presented by the candidates should be not older than 3 years since the application date for the EQL Award. The European Quality Leader award relates to the year before the year of the awarding ceremony.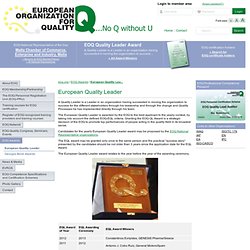 Australian Business Excellence Awards
Vokurka, Comparison of Quality Awards
Personal Awards Each year AOQ presents a number of Personal National Awards to members, usually at the Qualcon® conference dinner. The three awards are: JM Juran Award To recognise persons who have contributed in an outstanding way to the application of effective quality management in Australia. Joseph M Juran was deeply involved in management and particularly the management of quality.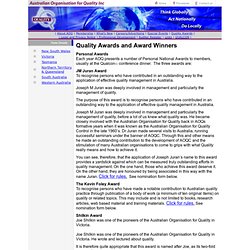 Australian Quality Awards
Australian Business Quality Awards |Small Business Service Awards| Business Awards
The Australian Business Quality Awards is an organisation with one goal in mind. To allow great businesses to get the recognition they deserve. Showcasing an award is one of the greatest marketing tools you can use. Not only does it get your message out to more potential customers, but it lets your customers know that you are the best at what you do. It doesn't matter if your business is big or small.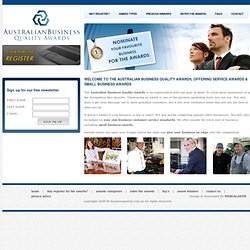 Baldrige Homepage
Baldrige applicants know that the journey is not about receiving a Presidential Award, although that's a nice goal. It's about getting expert feedback on where they are and where they need to be. It's about having the tools to examine all parts of their management model and improve processes while keeping the whole organization in mind. The Baldrige journey is about learning how to achieve Effectiveness Sustainability Innovation World-class results Integrated processes Organizational learning A national network to support and sustain your organization
Baldrige Performance Excellence Program