Transformation
TheDoLectures: Watch Inspirational Videos From People Who Do Great Things. It seems like watching lectures from inspirational people is becoming much more popular.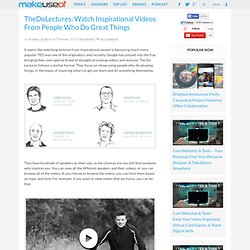 TED was one of the originators, and recently, Google has jumped into the fray, bringing their own special brand of thought-provoking videos and lectures. The Do Lectures follows a similar format. They focus on showcasing people who do amazing things, in the hopes of inspiring others to get out there and do something themselves. Steve Pavlina's Personal Development Blog. Inside your skull is a massive supercomputer.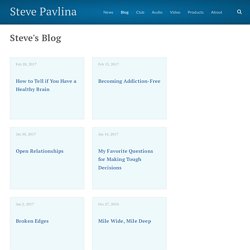 You own it free and clear. With its 100 billion neurons, and with a typical neuron linking to 1000 to 10,000 other neurons, your highly networked brain is incredibly powerful and capable. Personal Development Training With Sid Savara. Self Improvement from SelfGrowth.com. Part One. We've noticed that you are blocking the ads on Psi-Tek.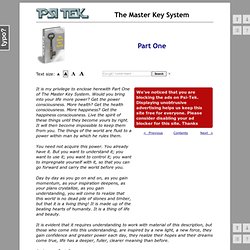 Displaying unobtrusive advertising helps us keep this site free for everyone. Please consider disabling your ad blocker for this site. Thanks It is my privilege to enclose herewith Part One of The Master Key System. F1898.110.jpg (JPEG Image, 708 × 500 pixels)
Men's Clothing
Download: Creating Your Life Plan. I'm pleased to have you join me on my email list.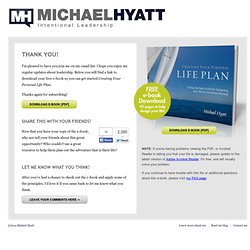 I hope you enjoy my regular updates about leadership. Below you will find a link to download your free e-book so you can get started Creating Your Personal Life Plan. Thanks again for subscribing! Download e-book [PDF] How To Turn An Angry Lover Into A Purring Pussycat. Ever wished you had a magic wand that you could wave and all the angry, upset, depressed people that you waved it at would suddenly start smiling, laughing and even jumping for joy?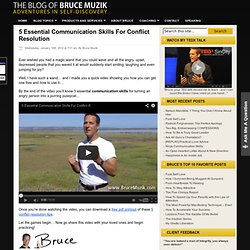 Well, I have such a wand… and I made you a quick video showing you how you can get one free and how to use it…. By the end of the video you'll know 5 essential communication skills for turning an angry person into a purring pussycat… Once you're done watching the video, you can download a free pdf printout of these 5 conflict resolution tips.
Let the games begin… Now go share this video with your loved ones and begin practicing! Before The Beginning Of The Universe, You Were Still There. Before the beginning, there was no time, no form, and no space - only absolute emptiness.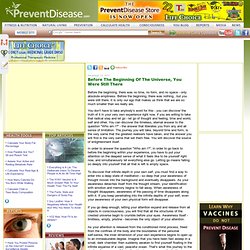 Before the beginning, there was nothing...but you were still there. It is only our ego that makes us think that we are so much smaller than we really are. Michael Hyatt | Intentional Leadership. How To Feel Your Best. Have you ever wondered why some days you feel PHENOMENAL and other days you feel just… BLAH?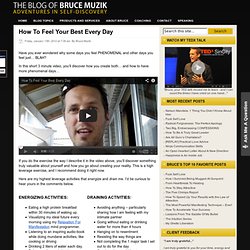 In this short 3 minute video, you'll discover how you create both… and how to have more phenomenal days… If you do the exercise the way I describe it in the video above, you'll discover something truly valuable about yourself and how you go about creating your reality. This is a high leverage exercise, and I recommend doing it right now. Here are my highest leverage activities that energize and drain me. I'd be curious to hear yours in the comments below. The Fastest Way to Get a Book Contract—Guaranteed. This image is for illustration purposes only.This product is a digital download not a physical product,giving you immediate access to the content.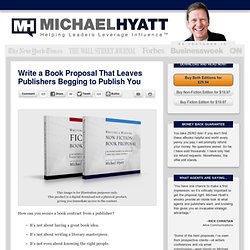 How can you secure a book contract from a publisher? It's not about having a great book idea.It's not about writing a literary masterpiece.It's not even about knowing the right people. The real secret to securing a book contract is knowing how to write a powerful, compelling book proposal that leaves agents begging to represent you—and publishers eager to sign you. Creating A Vision for Your Life. Creating a good vision for your life is incredibly important in actually being able to be successful in life.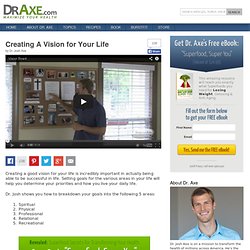 Setting goals for the various areas in your life will help you determine your priorities and how you live your daily life. Dr. Dr. Judith Rich: 10 Essential Values for Living a Transformed Life, No. 1: Accepting Personal Responsibility. In my post last week, "2012: Ushering in the 100th Monkey," I identified 10 values essential for aligning one's consciousness with the principles of transformation.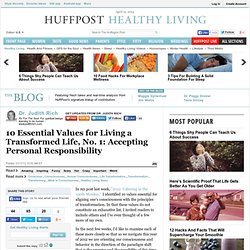 In that these values do not constitute an exhaustive list, I invited readers to include others and I've even thought of a few more of my own. In the next few weeks, I'd like to examine each of these more closely so that as we navigate this year of 2012 we are orienting our consciousness and behavior in the direction of the paradigm shift that is the promise and the possibility of this time. Keeping in mind an essential principle that governs human behavior -- consciousness aligns with itself -- there needs to be a critical mass, or a convergence of energy, thought and consciousness coalescing around a single idea or possibility in order for any kind of collective shift to occur.
---