Case Study Protein Electrophoresis
Can DNA Demand a Verdict?
Genetic Witness: Science, Law, and Controversy in the Making of DNA Profiling (9780813541884): Jay D. Aronson
Methods of DNA Fingerprinting by Carl DiGiovanni
Methods of DNA Fingerprinting by Carl DiGiovanni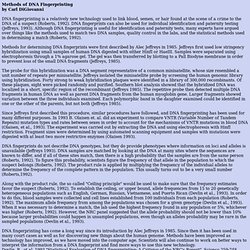 nature_article.pdf (application/pdf Object)
DNA Fingerprinting, Genetics and Crime: DNA Testing and the Courtroom
The frequency of the DNA profile obtained from the stain on White House intern Monica Lewinsky's dress was reported to be 1 in 7.9 trillion. Since the population of the world is estimated to be only a little more than 6 billion--much less than 7.9 trillion--the question naturally arises: Where does this number come from and how was it calculated? As we will see, this calculation involves assumptions about the genetics of the population itself.
DNA Fingerprinting, Genetics and Crime: DNA Testing and the Courtroom
Extract DNA from the forensic sample, the victim, and the suspect DNA profiling is typically employed in two scenarios, in violent crimes such a murder or rape and in paternity (or grand-paternity) cases. The amount of biological samples available, whether it be blood, semen or hair, may often be old and in poor condition.
DNA Fingerprinting, Genetics and Crime: DNA Testing and the Courtroom
"Everyone's different." We are all reminded of the veracity of this old adage just by looking around us in a crowd. With the exception of identical twins, it is not difficult to distinguish one individual from another.
Illumin - DNA Fingerprinting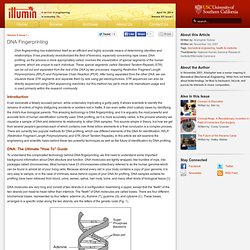 DNA fingerprinting has established itself as an efficient and highly accurate means of determining identities and relationships.
Serial Killer Claims DNA Testing Is Flawed – Appeal Denied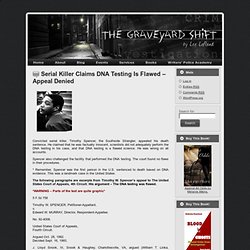 Convicted serial killer, Timothy Spencer, the Southside Strangler, appealed his death sentence. He claimed that he was factually innocent, scientists did not adequately perform the DNA testing in his case, and that DNA testing is a flawed science. He was wrong on all accounts.
WHO DONE IT?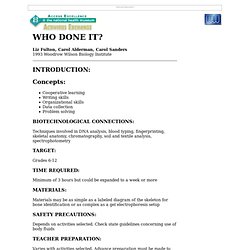 Liz Fulton, Carol Alderman, Carol Sanders 1993 Woodrow Wilson Biology Institute
DNA Interactive: Discovering the DNA Structure and beyond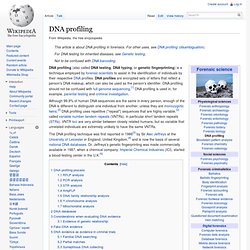 DNA profiling (also called DNA testing, DNA typing, or genetic fingerprinting) is a technique employed by forensic scientists to assist in the identification of individuals by their respective DNA profiles. DNA profiles are encrypted sets of numbers that reflect a person's DNA makeup, which can also be used as the person's identifier.
DNA profiling
In the last 15 years, DNA has played an increasingly important role in our legal system.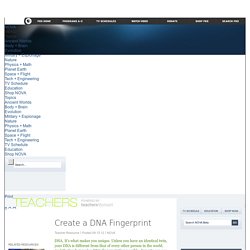 NOVA | Create a DNA Fingerprint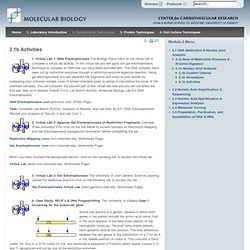 2.1b Activities
1.
Restriction enzymes cut DNA at precise points producing a collection of DNA fragments of precisely defined length. These can be separated by electrophoresis, with the smaller fragments migrating farther than the larger fragments.
Restriction Fragment Length Polymorphisms (RFLPs)
intro.pdf (application/pdf Object)
Virtual Lab: Agarose Electrophoresis
The program running below is a simulation of an agarose gel electrophoresis setup that allows you to understand how restriction enzyme digests are analyzed. To get the best appreciation for this technique, it would be best to review the sections on Agarose Gel Electrophoresis of DNA and Restriction Mapping if you have not done so already. NOTE: This program requires a browser that supports Java Version 1.1 or greater, which means Netscape 4.x or Internet Explorer 4.
Gel Electrophoresis Virtual Lab
A day without electrophoresis is very rare in molecular biology labs, because this technique is the standard method used for analyzing, identifying and purifying fragments of DNA. It is also used for separating and analyzing RNAs and oligonucleotides. Electrophoretic "gels" are composed of either agarose or polyacrylamide.
Gel Electrophoresis of DNA and RNA
LabBench
Helena Electrophoresis Booklets
Continuing Education Booklets Wallcharts and Slide Series : Gel Electrophoresis : Automated Electrophoresis : Platelet Function : Helena.com