LMS
Assessment Process - LMS Pilot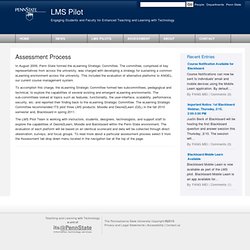 In August 2009, Penn State formed the eLearning Strategic Committee. The committee, comprised of key representatives from across the university, was charged with developing a strategy for sustaining a common eLearning environment across the university. This included the evaluation of alternative platforms to ANGEL, our current course management system. To accomplish this charge, the eLearning Strategic Committee formed two subcommittees, pedagogical and technical, to explore the capabilities of several existing and emergent eLearning environments. The sub-committees looked at topics such as features, functionality, the user-interface, scalability, performance, security, etc. and reported their finding back to the eLearning Strategic Committee.
I have gotten a lot of very nice compliments in the last 24 hours about the first post in this two-part series. I do want to emphasize that a huge portion of the value in that post comes from the great survey work that Casey Green does. All I did was tease out a few implications and make a few new graphs (which, I admit, were very pretty). If you want to see analysis like this continue in future years, then support the Campus Computing Project .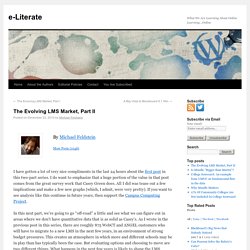 - e-Literate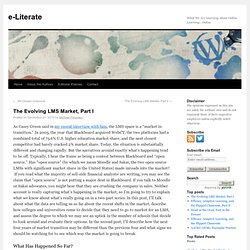 As Casey Green said in my recent interview with him , the LMS space is a "market in transition." In 2005, the year that Blackboard acquired WebCT, the two platforms had a combined total of 75.6% U.S. higher education market share, and the next closest competitor had barely cracked 2% market share. Today, the situation is substantially different and changing rapidly.
- e-Literate
What LMS do you prefer? Have you tried this one?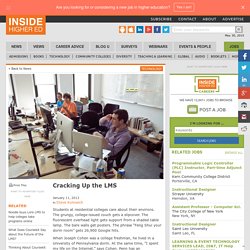 What does the LMS of the future look like?
Students at residential colleges care about their environs. The grungy, college-issued couch gets a slipcover. The fluorescent overhead light gets support from a shaded table lamp. The bare walls get posters. The phrase "Feng Shui your dorm room" gets 26,900 Google hits. When Joseph Cohen was a college freshman, he lived in a University of Pennsylvania dorm.