Infographic
Infogram: Easily Create Embeddable Charts & Graphs. Charts and graphs are an excellent way to present figures in an easily understandable way.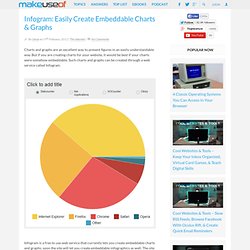 But if you are creating charts for your website, it would be best if your charts were somehow embeddable. Such charts and graphs can be created through a web service called Infogram. Infogram is a free to use web service that currently lets you create embeddable charts and graphs; soon the site will let you create embeddable infographics as well. The site lets you sign in with your Facebook or Twitter account. Infographs. Cool Infographics - Blog. Cloning-facts-infographic.jpg (JPEG Image, 5175 × 3375 pixels) - Scaled (26%) Infographics Inspiration | Creative Infographic Design & Information Graphics. How to Create a Clever Infographic. An Infographic on Infographics : Cool Infographics. 1-why-infographics.jpg (JPEG Image, 600 × 400 pixels) How to Create an Infographic. Advertisement An infographic is one of the best ways for a to generate buzz on the Web and create high-quality links.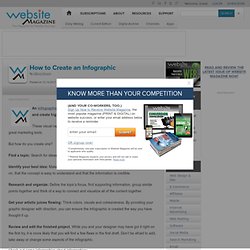 These visual representations of data are informative, visually appealing and great marketing tools. But how do you create one? Find a topic: Search for ideas through social media, brainstorming sessions or news stories.
---