Food
Get flash to fully experience Pearltrees
1) FoodCollection 2) Joy Skipper/Fresh Food Images 3) Fotosearch 4) Robert J Bennett/Age Fotostock 5) Junko Mugita/AFLO 6) Fotosearch 7) Image100 8) Hallmark Institute/Index Stock Imagery 9) Steve Pomberg/WebMD 10) IStockfoto 11) Radius Images 12) Dorling Kindersley 13) Nicolas Lemonnier/StockFood Creative 14) Jupiterimages/Photos.com 15) Foodfolio 16) Foodfolio 17) Dorling Kindersley 18) Hall/SoFood Collection 19) Imagebroker 20) Adam Adam/Photocuisine 21) Laszlo Selly/FoodPix 22) Clover/Amanaimages 23) Burke/Triolo Productions/Brand X 24) Stockbrokerextra Images 25) Stockbrokerextra Images 26) Photolibrary American Diabetes Association web site. American Dietetic Association web site. Brown, J.
The grocery store can be a confusing place. Labels are applied to nearly every product boasting any number of health benefits ranging from heart healthy to fortified, but what does it all mean, and is there really a benefit from any of it? Photo by Lyza . Walking through a grocery store, we took a look at some of the most common labels you'll find on foods and broke down what they typically mean, when it matters, if the claims are regulated, and most importantly, if the labels are worth paying more for. Enriched and Fortified
Eating a couple of gold kiwifruit every day may reduce the severity of symptoms of the common cold, says new data from New Zealand. Kiwi is a powerhouse of vitamin C. It has 4-12 times more vitamin C than an orange, 3 times more than an apple and 60 times more than grapes.
P O Box 25, Waldron, WA 98297-0025 Articles | 2013 Workshops | Island Herbs Order Form (pdf) | Contact Ryan Medicinal Uses of Seaweeds Updated from Gaia 2008 Conference Notes
EDIT : I have no idea why this post is so popular. People love to read about it and flip out because I said that I am "basically a vegan" even though I used to eat raw fish every couple weeks back when I was a raw foodist. A few things to make clear: I really couldn't care less whether you call me a vegan, omnivore, carnivore, or just a jerk. I'm actually embarrassed to call myself a vegan because most vegans have these insane attachments to labels, and most (not all) of them eat tons of processed junk.
(NaturalNews) One ingredient found in many of today's green super-food formulas is red beet root powder, which is made from dehydrated beets and then ground into a powder. Although the benefits of beets are not often shouted through the rooftops, red beet roots and beet juice have a storehouse of plant-sourced nutrients and a tremendous amount of healing potential. Beets are a very good source of dietary fiber, potassium, manganese, and folate. Beets are also a good source of Vitamin C, zinc, copper, and iron.
In 2005, my husband contracted West Nile Disease. So did several of our family friends. But whereas some of them recovered, without noticeable muscle tremors, lung problems, or noticeable residual viral infection(s) and weakened immune systems, my husband was completely out of work for 14 months. His hands shook, his vision blurred, he could hardly breathe. He fought high levels of pain, in his lungs and elsewhere, continuously.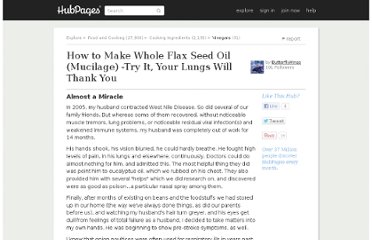 What is Flaxseed Oil? Flaxseed oil is derived from flax seeds and is a cold pressed oil that can be used in salads, cooking, or simply taken alone as a supplement. It has become more popular in recent years, as more people are making the shift towards natural and whole food living. Eating a variety of foods, taking supplements, and eating more raw and natural foods is becoming more common than fad diets and extreme eating programs that eliminate important nutrients.