E-learning Resources
Make money teaching online - Kim's Columns – Reviews and Advice on All Things Digital
How To Teach Online - eLearning Help
Effective Online Teaching & Training | Where Online Trainers Increase Connection, Engagement and Enjoyment
How to Create Online Content that Gets Attention Using Human Psychology… | Effective Online Teaching & Training
Today's post is not a video. I chose to create a written blog because today's "Hot Topics Wednesdays" post deals with writing for the web. Writing for web-based courses is DIFFERENT than writing for traditional courses.
Welcome to funnymonkey! | FunnyMonkey - Tools for Teachers
The Moderator's HomePage
Discussion Boards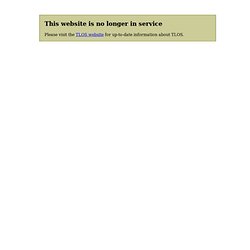 DISCUSSION BOARD TERMINOLOGY If one individual posts a question, and three others post answers to that question, these four "posts" comprise what is known as a "thread" of conversation. The phrase, "threaded disucssion board" is common, referring to threads of conversation, each focused on a particular topic (e.g., "How do I fix a running toilet?").
News
Save Yourself from Drowning in Online Interaction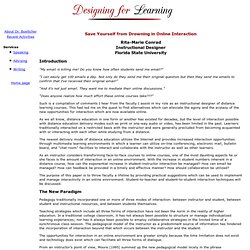 Rita-Marie Conrad Instructional Designer Florida State University Introduction "My email is killing me!
What have we learnt about ...
Effective Online Facilitation Quick Guides series - Australian Flexible Learning Framework
e-Learning Centre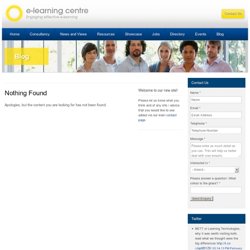 This page provides links to some resources concerned with facilitating online discussions and online learning in general.
e-Learning Centre: Facilitating online learning
International Forum of Educational Technology & Society
CITE Journal
The CITE Journal is an online, peer-reviewed journal, established and jointly sponsored by five professional associations (AMTE, ASTE, NCSS-CUFA, CEE, and SITE). This is the only joint venture of this kind in the field of teacher education. Each professional association has sole responsibility for editorial review of articles in its discipline: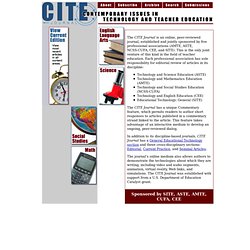 Facilitating Online Discussions, by Donna Raleigh | TTT
Vol. 7, No. 3: November 15, 2000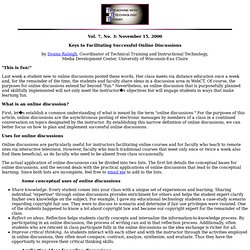 Full Circle Associates - communications, project management, facilitation, and online community and collaboration spaces
Online Community Toolkit
Thinking about building or hosting an online community? Looking for specific tips, tools and ideas? Start here. The following is a collection of articles that may help inform your work. They are all covered by our Creative Commons license which makes the material available with limited restrictions. Check it out.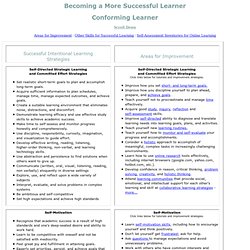 Becoming a More Successful Intentional Learner - Conforming
Becoming a More Successful Learner
@ The Training Place, Inc. - Learning, Events, Research, Products, Services, and Intelligence for Adaptive Learning Intelligence and Personalized E-Learning - Located in Arizona
Teaching and Learning Centre Home Page
Web Teaching Resources
TNU
Main Page - KM4DevWiki
Plone: A user-friendly and powerful open source Content Management System — plone.org
knowplace
Self Paced Tutorials - Community College of Vermont
High School Diploma Online, Accredited courses, GED & SAT Prep
Developing TheWeb.com offers you the chance to provide a stable online support for your language students. Among many possibilities, you will be able to offer the following: support for group classes - support for one-to-one classes - support for telephone classes - whole online courses
Online Course Support Hosting