Discussion Forums
An Internet forum powered by phpBB An Internet forum , or message board , is an online discussion site where people can hold conversations in the form of posted messages. [ 1 ] They differ from chat rooms in that messages are at least temporarily archived. Also, depending on the access level of a user or the forum set-up, a posted message might need to be approved by a moderator before it becomes visible.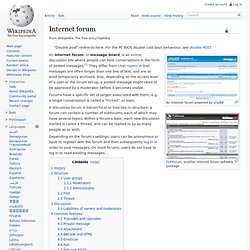 Personal Development for Smart People Forums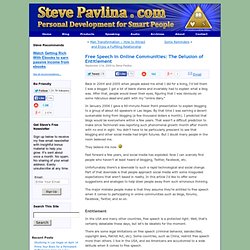 Back in 2004 and 2005 when people asked me what I did for a living, I'd tell them I was a blogger. I got a lot of blank stares and invariably had to explain what a blog was. After that, people would lower their eyes, figuring that I was obviously on some ridiculous dead-end path with my "online diary." In January 2006 I gave a 90-minute Power Point presentation to explain blogging to a group of about 60 speakers in Las Vegas. By that time I was earning a decent sustainable living from blogging (a few thousand dollars a month). I predicted that blogs would be everywhere within a few years.
Free Speech in Online Communities: The Delusion of Entitlement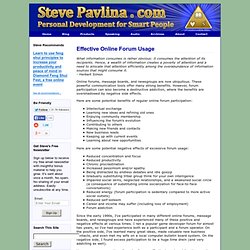 What information consumes is rather obvious: it consumes the attention of its recipients. Hence, a wealth of information creates a poverty of attention and a need to allocate that attention efficiently among the overabundance of information sources that might consume it. - Herbert Simon Online forums, message boards, and newsgroups are now ubiquitous. These powerful communication tools offer many strong benefits. However, forum participation can also become a destructive addiction, where the benefits are overshadowed by negative side effects.
Effective Online Forum Usage by Steve Pavlina
Why I Shut Down the Forums
In this post I'll share more details about the reasons I decided to shut down the discussion forums on this site. As I stated in my previous post, I closed them on Dec 26th. The forum archives are still online, and you can search them too. Forum vs. Blog