Cancer
Get flash to fully experience Pearltrees
February 4, 2012 | Like this article?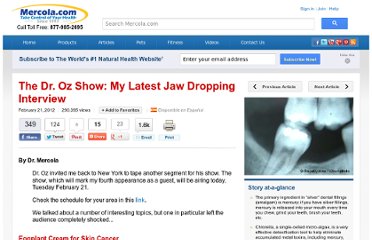 By Dr. Mercola Dr.
February 21, 2012
By Dr. Mercola
NewsRx.com CHICAGO - Why do so many postmenopausal women who are treated for estrogen-sensitive breast cancer quit using drugs that help prevent the disease from recurring? The first study to actually ask the women themselves - as well as the largest, most scientifically rigorous study to examine the question - reports 36 percent of women quit early because of the medications' side effects, which are more severe and widespread than previously known.
Part 1 of 2 Orthodox anticancer therapies have harmful if not fatal side effects, but medical professionals continue to inflict them on their patients as a matter of course. Extracted from Nexus Magazine, Volume 9, Number 5 (Aug-Sept 2002) PO Box 30, Mapleton Qld 4560 Australia. editor@nexusmagazine.com Telephone: +61 (0)7 5442 9280; Fax: +61 (0)7 5442 9381 From our web page at: www.nexusmagazine.com
Part 2 of 2 Vitamins C and B17 (also called laetrile) have longstanding success in cancer prevention and treatment, yet the orthodox medical profession continues to deny their benefits.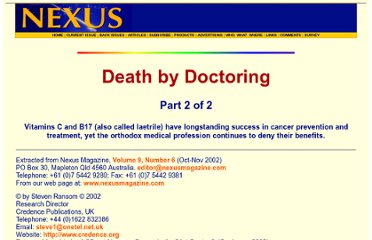 January 28, 2012