Bus Weather
RTA. CTA. Skip to main content | Skip to site map Accessibility|Mobile|Help|Contact|Site Map CTA Home : Travel Info : Customer Alerts.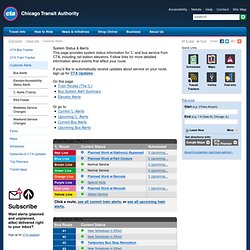 Weather. Weather Underground Forecast for Friday, April 11, 2014 A cold frontal boundary will extend from the southern Plains to New England on Friday, while a wave of low pressure will skim across the Pacific Northwest.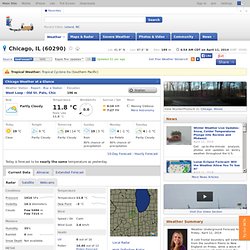 A cold frontal boundary will propagate eastward across the central and eastern thirds of the country. This frontal boundary is forecast to stretch from Texas to Maine on Friday, as showers and thunderstorms will develop over a handful of states. The strongest storms will focus over the Ohio Valley and into the Mid-Atlantic, bringing a chance of flash floods to southern Ohio, northwestern Kentucky, West Virginia, Maryland and eastern Pennsylvania.
Showers and thunderstorms are also expected across the Mississippi Valley and the Tennessee Valley. Radar. Weather Forecast Chicago, IL | Chicago Weather. 152 Addison W. LS&Grace. Sheridan & Pine Grove. Broadway & Belmont. Pace 331 N from Triton. Cubs.
---