Pdf
Add, manipulate, replace, and correct text and images in PDF files with intuitive editing tools. Extract and delete individual pages from documents. Edit Text Add, delete, and correct text with automatic reflow and paragraph detection. Adjust formatting, like font face, size, color, and character spacing.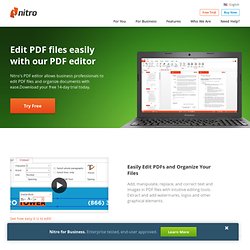 Adobe PDF Guide: How to Do Everything with PDF Files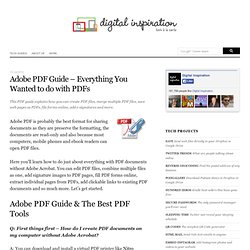 This PDF guide explains how you can create PDF files, merge multiple PDF files, save web pages as PDFs, file forms online, add e-signatures and more. Adobe PDF is probably the best format for sharing documents as they are preserve the formatting, the documents are read-only and also because most computers, mobile phones and ebook readers can open PDF files. Here you'll learn how to do just about everything with PDF documents without Adobe Acrobat. You can edit PDF files, combine multiple files as one, add signature images to PDF pages, fill PDF forms online, extract individual pages from PDFs, add clickable links to existing PDF documents and so much more.