Illustrator
40 Tutorials for Outstanding Text Effects in Illustrator. Fuzzy, sketchy, bubbly, viscous, sleek, shiny, retro, futuristic: you can do it all in Adobe Illustrator.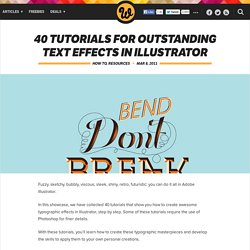 In this showcase, we have collected 40 tutorials that show you how to create awesome typographic effects in Illustrator, step by step. Some of these tutorials require the use of Photoshop for finer details. With these tutorials, you'll learn how to create these typographic masterpieces and develop the skills to apply them to your own personal creations. If you know of any other great tutorials for text effects in Illustrator, please share them with us in the comments at the end of the article. Illustrator Menü-Übersetzung. Vektorgrafik und Illustrator - Tipps, Tricks & Tutorials Illustrator Menü-Übersetzung Während man die meisten englischen Tutorien gut lesen kann, ist es doch häufig trotzdem schwierig, sie nachzuvollziehen, da die Menü-Befehle und Funktionen so ganz anders heißen.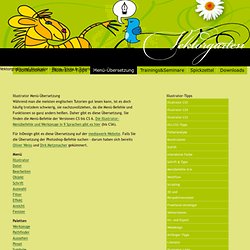 Daher gibt es diese Übersetzung. Sie finden die Menü-Befehle der Versionen CS bis CS 6. Die Illustrator-Menübefehle und Werkzeuge in 9 Sprachen gibt es hier (bis CS6). Vector Illustration: 60 Illustrator Tutorials, Tips and Best Practices - Noupe Design Blog. Jul 14 2008 Adobe Illustrator is a powerful tool for illustrating various elements one can use for web pages and print design.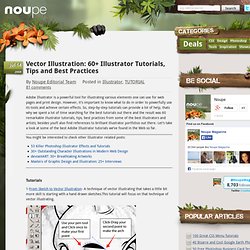 However, it's important to know what to do in order to powerfully use its tools and achieve certain effects. So, step-by-step tutorials can provide a lot of help, thats why we spent a lot of time searching for the best tutorials out there and the result was 60 remarkable illustrator tutorials, tips, best practices from some of the best illustrators and artists; besides you'll also find references to brilliant illustrator portfolios out there. Let's take a look at some of the best Adobe Illustrator tutorials we've found in the Web so far. Stern 3d. 3d pixel schrift. In this tutorial, I will show you how to create a fun 3D pixel font type treatment.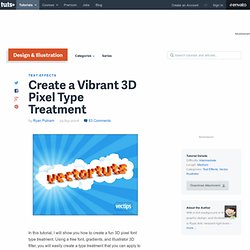 Using a free font, gradients, and Illustrator 3D filter, you will easily create a type treatment that you can apply to many other fonts. Video Tutorial.
---