Language Arts
Student Materials: Eye on Idioms. English Companion Ning - Where English teachers go to help each. Curriculum Framework. The Curriculum Framework specifies what is to be taught for each subject in the curriculum.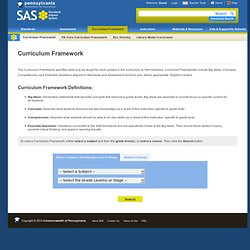 In Pennsylvania, Curriculum Frameworks include Big Ideas, Concepts, Competencies, and Essential Questions aligned to Standards and Assessment Anchors and, where appropriate, Eligible Content. Curriculum Framework Definitions: Big Ideas: Declarative statements that describe concepts that transcend grade levels. Big Ideas are essential to provide focus on specific content for all students. Concepts: Describe what students should know (key knowledge) as a result of this instruction specific to grade level. Blogging Pedagogy | A resource for teachers in English studies. Books and Authors for Kids in The Stacks. Weboword - Vocabulary Visually! Tkamb21pdf.pdf - Google Docs. Admongo.gov. Tom March :: Thesis Builder - The Original Persuasive Essay Make.
ElectraGuide is a tool that wants to help high school students: find a topic (see example topic questions?)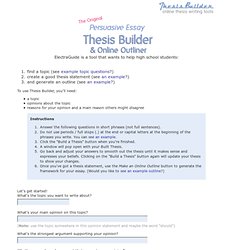 Create a good thesis statement (see an example?) And generate an outline (see an example?) Welcome to Literacyhead!
---